One of the students named on the "Rapist List" being circulated around Columbia University has agreed to leave his post at Bwog, the campus publication where, until yesterday, he was a writer.
In late April, 23 students filed a Title IX and Clery Act complaint against Columbia, alleging that the University privileges its reputation over the safety of its students and handles rape complaints with the sensitivity and grace of a panicking barnyard animal. But for some students, change didn't come soon enough. Last week, a list of four names labeled "RAPIST LIST" began appearing in handwriting in women's restroom stalls in university buildings, and yesterday, someone printed the names onto flyers that were left shoved in a pile behind a tampon dispenser. A tipster sent us the uncensored version of the list, and we were able to verify that all four men listed currently attend Columbia.
One of the students named in the "Rapist List" actually worked at a publication that helped break news of the "Rapist List." In fact, last week, his publication posted something critical of the list. The post has since been updated.
Last night, the editors of Bwog cosigned an entry that explained their decision to ask the student — who, according to the "Rapist List," had been found "responsible" in a case of sexual assault but allowed to remain a student at Columbia — to vacate his senior position at the publication, because allowing him to continue working there would be a tacit endorsement of "rape culture." Here's an excerpt:
On May 7, allegations that a member of our staff had violated Columbia University's Gender Based Misconduct policy were brought to our attention by an anonymous tip. As a reiteration of our continued work against rape culture, we have taken steps to ensure that the makeup of Bwog's staff, without question, reflects this. Accordingly, we asked this staffer to permanently and immediately resign from their position, and they agreed. Our decision does not reflect a position on the innocence or guilt of this former staff member, nor does it comment on, take a position on, support, implicitly or explicitly, any allegations of fact or law made against such person.
G/O Media may get a commission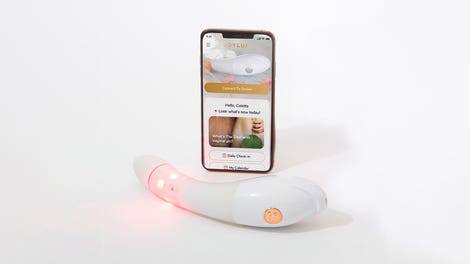 $50 Off
Joylux vFit Gold Device
We reached out to Columbia's media relations department via phone, only to receive this via email several hours later:
To avoid chilling complainants from coming forward and to respect all parties involved, the University does not comment on the particulars of disciplinary proceedings regarding sexual misconduct. In addition, the University is mindful of the multiple federal laws that govern these matters and provide important protections to survivors of sexual violence and to students engaged in our investigative process. These laws and our constitutional values do not permit us to silence debate on the difficult issues being discussed.
While the University can't give official word on the disciplinary status of the students listed, students familiar with the disciplinary hearings aren't subject to the same decorum.
Sources on Columbia's campus and familiar with the school's piss-poor history of constructively addressing sexual assault complaints didn't have much to say about the student fired by Bwog, but they did have plenty to say about another man on the list, who has been the subject of not one, not two, but three separate formal sexual assault complaints against three separate women. In one incident, according to sources, he was found "responsible" for what happened but allowed to continue to attend classes. He appealed the decision after his victim graduated last year, and the decision to find him "responsible" was eventually overturned by the university after his victim decided to drop the case. Says one source familiar with the proceedings, "I think she dropped the case [because] it was too difficult to juggle with post-grad life."
Because this individual, who has been the subject of more than one horrifying news story of Columbia bumbling rape cases, was never found "responsible" in a way that stuck, the mounting disciplinary complaints made against him weren't allowed to be used as evidence in subsequent trials. And so he was allowed to not only remain a student with a clean record, but also to spend the current semester studying abroad.
University officials have said they plan on treating the "Rapist List" incidents as "graffiti," an infraction that, according to the student conduct code, can lead to expulsion, which is more punishment than any of the four "rapist list" members received.
What's happening at Columbia is morally complicated, and will continue to grow more morally complicated as curious reporters flock to campus to get a clearer idea of how a school ostensibly run by very smart people could be so very dumb about something as viscerally upsetting as rape, how some women who attend the University are so desperate for the justice their school has denied them that they're willing to put their educational future on the line in the name of spurring action. They're willing to risk themselves to take these four men down, men who were at some point found "responsible" for sexual assault but suffered few, if any, consequences.
And, like that, Columbia University is becoming a textbook example of how inadequate sexual assault procedures fail both the accusers and the accused; even men justifiably exonerated will have to live with the stain of being found innocent of rape by a flawed process.
Other universities should take note: ignoring the problem of sexual assault won't make it go away. Ignoring it turns a personal tragedy from which young men and women can heal into a ticking time bomb that, when it goes off, can rend the entire community.
The writing's on the wall.