Last week, a federal appeals court resuscitated a lawsuit accusing Columbia University of gender discrimination against men, specifically in the university's handling and application Title IX investigations. John Doe's lawsuit, which was previously dismissed by a lower court, was filed under Title IX, and claims that Columbia practiced "sex bias in disciplining him for an alleged sexual assault."

The case stems from a 2013 incident during which John Doe was accused by a female student of a coercive sexual relationship. Doe was investigated by the Columbia and suspended from the university as a result of the investigation.
The Washington Post reports:
In September of 2013, according to court documents, he received notice from Columbia's Assistant Director for Gender-Based and Sexual Misconduct that a woman with whom he had had sex four months earlier, consensual sex by his account, had filed a complaint against him of sexual assault, alleging that he had "coercively pressured her over a period of weeks to have sex with him" before they actually did.

The accusation took "John Doe" by surprise, his lawyers said. The woman, identified only as Jane Doe, had taken a long walk with him early one morning, a break from studying, and discussed "hooking up," according to him. She took him to her dorm suite, he said, retrieved a condom, undressed and the two had sex.
To be clear, however, this account is solely John Doe's version of events; Jane Doe's testimony and complaints to the Columbia remain in sealed records. John Doe initially sued the university in the spring of 2014 after he was found responsible for sexually assaulting Jane Doe and he was suspended from Columbia for a year. In the lawsuit, John Doe claims that because of Columbia's suspension policy he lost credit for the semester he was currently enrolled in, effectively making his suspension a year and a half.
Doe's lawsuit argues that Columbia's handling of his case was the direct result of a "pro-female, anti-male bias" that influenced the university's Title IX investigator, the school's sexual assault investigation panel, and a dean who was directly involved in the handling of Doe's case. The Columbia Spectator notes that Doe alleges that the university bowed to particular kinds of pressure:
Doe's lawsuit also says that public pressure pushed these decision-makers to rule against Doe, who was then a first-year varsity rower, "in order to avoid further fanning the criticisms that Columbia turned a blind eye to such assaults."
G/O Media may get a commission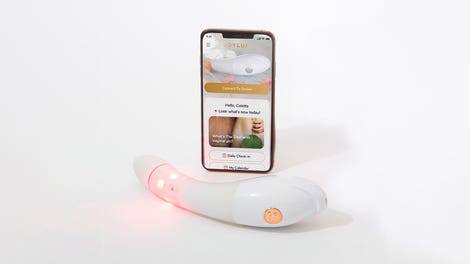 $50 Off
Joylux vFit Gold Device
In April 2015, Doe's lawsuit was dismissed by a federal judge who ruled that Doe's lawsuit lacked a clear legal argument. That decision was overturned by an appeals court which found:
[There is] nothing implausible or unreasonable about the Complaint's suggested inference that the panel adopted a biased stance in favor of the accusing female and against the defending male varsity athlete in order to avoid further fanning the criticisms that Columbia turned a blind eye to such assaults.
In a footnote, the appeals court also noted that a university's motivations, specifically "fear of negative publicity or of Title IX liability," could constitute a Title IX infraction. Inside Higher Ed notes that the footnote is particularly significant since it allows that the influence of a Title IX investigation by publicity or internal criticism could demonstrate gender discrimination.
The ruling is likely to be influential in a spate of similar gender discrimination cases which have recently been filed against multiple universities. Former Yale basketball player Jack Montague, who was expelled for sexual assault, filed a similar gender-discrimination suit in June. Columbia also faces another discrimination suit filed by Paul Nungesser who is represented by the same law firm as John Doe.
Similar cases are also pending at Brown University, Stanford University, and the University of Texas, where male students have all filed lawsuits alleging that Title IX investigators demonstrated "male bias."