The Equal Employment Opportunity Commission has filed a lawsuit against a Houston topless bar for allegedly forcing African-American waitresses and dancers to not work when the club was visited by a certain racist company executive. A manager says he's shocked by the suit because the club markets itself as multi-racial — meaning it's switched to a latin theme.
The EEOC alleges that beginning in September 2007, the managers of Michael's International Club started pulling African-American women from scheduled shifts. They were told they couldn't work because Bert Stair, the company's vice president and secretary, doesn't like black waitresses and dancers. From the press release:
The EEOC claims that Stair directly called at least one of the black waitresses a "n——r," and told her "We don't need any more n——rs in this club, we have enough." The lawsuit further asserts that in mid-November 2007, African-American females working at the club insisted on speaking with Stair to discuss their complaints of race discrimination. The meeting, however, failed to change the working conditions, which had become intolerable for African-American females who were repeatedly prevented from working their scheduled shifts because of their race, and the EEOC contends that the women were forced to quit because of the racism.
Michael's hasn't issued a response, but a manager pointed out to a KHOU that the club is "multi-racial." Local ads note that the club features "Chicas Locas," and according to the Star-Telegram it's MySpace page says the club:
"recently changed its theme to Latin due to popular demand. In doing so we now play the best in reggaeton, latin pop, latin rock, salsa, merengue, bachata and cumbia. But of course we still play all the best in 80's music every third girl. We have the sexiest dancers in all of Houston waiting to entertain your needs."
G/O Media may get a commission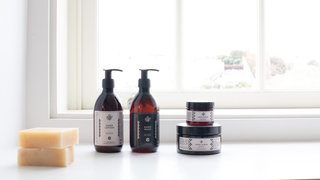 Exfoliate and Hydrate
The Handmade Soap Company
Someone needs to explain to the management that capitalizing off one culture (and the '80s) doesn't mean Michael's isn't capable of racial discrimination.
Michael's International Sued By EEOC For Race Discrimination [EEOC]
EEOC Sues Houston Strip Club Over A [KHOU]
Sexy Black Dancers Not Good Enough For Texas Club Manager, Feds Say In Discrimination Suit [Star-Telegram]