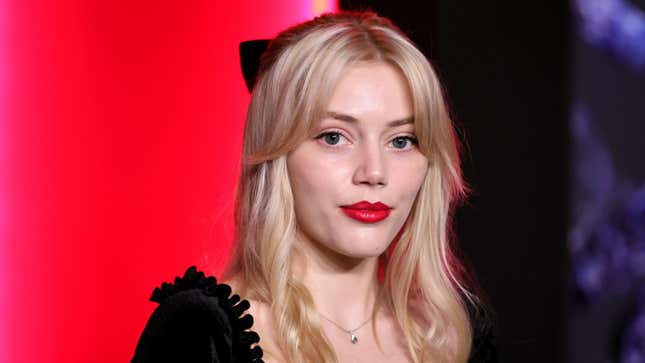 Everyone knows how much having a shitty boss can ruin your work life, but for Stranger Things actor Grace Van Dien, it's prompted her to stop pursuing acting projects completely. As Variety reported, the actor disclosed in a recent Twitch stream that she has turned down at least four movie roles in the past two and a half weeks after a movie producer made unwanted sexual advances.
Ricky Gervais' "Jokes" Have Earned Him Dirt Bag of the Week!
In a Twitch stream from Tuesday, the actor—who played the cheerleader, Chrissy, in the most recent season of the Netflix show—explained her decision to stream more, explaining that she hadn't had "the best experiences with some of the people [she] had to work for."
"One of the last movies I did, one of the producers asked me to like, he hired a girl that he was sleeping with and then he had her ask me to have a threesome with them," she said. "So…that's my boss. And then I didn't and I cried." Yikes. Personally, that's not the kind of collaboration I'm ever looking to do with my colleagues.
Some viewers questioned how streaming—which has long been criticized for being a misogynistic space that upholds "frat boy culture"—could possibly be better for her mental health, to which she replied: "I get to stay inside my house and play video games and I don't have my boss asking me to have sex with them." Noted. Van Dien streams herself playing video games like Valorant and Fortnite under the name Blue Fille to an audience of about 280,000 followers.
Van Dien said that she "handled" the inappropriate proposition "the right way" and brought the incident to management. A coworker, who overheard what happened, backed her up and supported her, asking Van Dien if she needed to remove herself from the situation. "My castmate, she was there with me and was like, 'Did I just hear that correctly?' And I was like, 'Yeah.' And she was like, 'You want to go take a walk?'
"We just had a miserable time. We cried a lot on that shoot," she added. (It's unclear which movie she was talking about. According to her IMDB page, three recent films she appears in are in post-production.)
Van Dien seems hopeful about her pivot to streaming, where she won't be subject to her boss preying on her. And it seems that stepping away from the camera won't be permanent: "I'm happy here, and I'm developing my own projects," she said during the stream. "I'm hoping that someone decides to fund them, because then I can be in control of my own set, and I'm not going to ask my actors to sleep with me, so...that's cool, right?" I think "cool" is an understatement, but I get her point!
Powerful men in Hollywood have proven time and again how awful the industry can be for young women, and so few face consequences. I applaud Van Dien for speaking up in a culture that would rather have her say nothing at all—and for stepping away from it all.