Adult-film actress and perpetual thorn in the Trump administration's side, Stormy Daniels, is suing Donald Trump for defamation.
Daniels's attorney, Michael Avenatti, announced the suit via Twitter and included a PDF link to the full complaint.
During a 60 Minutes interview in March, Daniels said that a man approached her in a grocery store parking lot in 2011 and threatened her to keep quiet about her alleged affair with Trump. Daniels claims that the mystery man looked down at her infant daughter and said, "That's a beautiful little girl. It'd be a shame if something happened to her mom."
After a forensic sketch of the man Daniels claims threatened her circulated online, Trump cried foul on Twitter, calling the man "nonexistent" and the entire ordeal a "con job." The suit against Trump claims that Trump knew that his tweets would damage Daniels's, whose real name is Stephanie Clifford, reputation and open her up to harassment and violence.
G/O Media may get a commission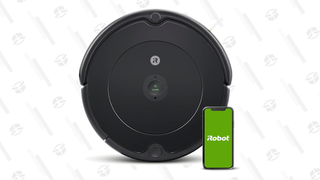 35% Off Black Friday Deal
iRobot Roomba 694 Robot Vacuum
From the lawsuit:
Mr. Trump's statement falsely attacks the veracity of Ms. Clifford's account of the threatening incident that took place in 2011. It also operates to accuse Ms. Clifford of committing a crime under New York law, as well as the law of numerous other states, in that it effectively states that Ms. Clifford falsely accused an individual of committing a crime against her when no such crime occurred. Mr. Trump's statement is false and defamatory. In making the statement, Mr. Trump used his national and international audience of millions of people to make a false factual statement to denigrate and attack Ms. Clifford. Mr. Trump knew that his false, disparaging statement would be read by people around the world, as well as widely reported, and that Ms. Clifford would be subjected to threats of violence, economic harm, and reputational damage as a result.
Trump hasn't tweeted about it. Yet.