WASHINGTON, DC—Bright and quite early in the morning after the D.C. Women's March, 500 women considering seeking political office attended a "Getting Ready to Run" training at the Grand Hyatt Washington hosted by EMILY's List, by far the largest training event in the pro-choice PAC's 31-year history.

"I flew in [for the women's march] and then saw this on social media and thought, well, if the march is day one, then this is day two," said Katy Pelissier, 28, while attendees mingled over breakfast. Pelissier, who works at an environmental nonprofit in Portland, Oregon, that helps school districts buy local food, has always been frustrated by policy barriers. But, she said, "when Trump was elected, I started feeling like the future I want is not inevitable, I have to work for it."
"I'm tired of watching what other people do on behalf of my community," said Khadijah Brydson, a beaming 24-year-old DC-based IT consultant who's originally from Miami. "I want to be in a position where I can hear people's concerns and be able to implement policy."
Laura Zax, 29, was more cautiously optimistic. "I have serious doubts about whether I would be able to have the energy to withstand so much negativity—I'm not working against anything right now, and I think it has the potential to be really exhausting," she said. "But I think it also has the potential to be really energizing."
EMILY's List was founded to elect pro-choice Democratic women to political office at the local and national level, and has helped carry 23 women into the U.S. Senate, including recently-elected Senators Kamala Harris (California), Tammy Duckworth (Illinois), and Catherine Cortez Masto (Nevada). (Jezebel recently partnered with EMILY's List on an inauguration panel.) Sunday's training, which included breakout sessions, Q&As, and an address from Rep. Pramila Jayapal, teased out misconceptions about barriers to office—being single, being a mom, not having a world-class education—and emphasized local elections. The slogan "if we're not at the table, we're on the menu!" was repeated a number of times.
G/O Media may get a commission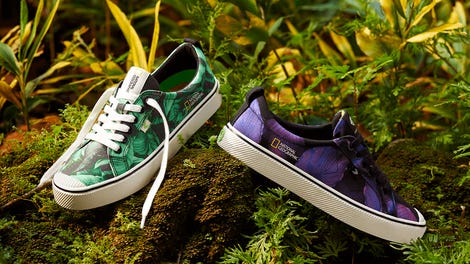 New New New
Cariuma + National Geographic
"The state and local offices, ladies, are going to be ground zero for this nonsense," said Muthoni Wambu Kraal, the group's senior director of state engagement and development, noting the GOP's control of a record number of state legislative chambers. Kraal, a powerhouse speaker, worked to corral the energy of the previous day's march.
"You are not crazy for thinking that you should run for office after this election that you just witnessed," she said, to loud cheers. "We know that women run for office because they're angry or they want to fix something—watch out for the woman for whom it's both.
"It's gotta be you," Kraal added. "Sorry, stop looking to the left or the right."
There was a driving sense in the room that we're just going to keep pushing on, even in the face of the disturbing and persistent impression that it's not just progressive values that are under attack, but American democracy itself—along with the norms and strictures that have traditionally policed its institutions. At one point, a list of "Key Must Haves" for potential candidates included a number of characteristics ("likes people," "integrity," "skin that can thicken") that don't seem to have mattered in the case of our current president. The baseline fact that a prospective public servant ought to exhibit such qualities, however, is more glaringly prominent than ever.
"We have some reporters here today," Kraal announced at one point, as the audience turned to look at the press section. "Isn't it nice to be greeted and respected?" she asked us. The room erupted into applause.