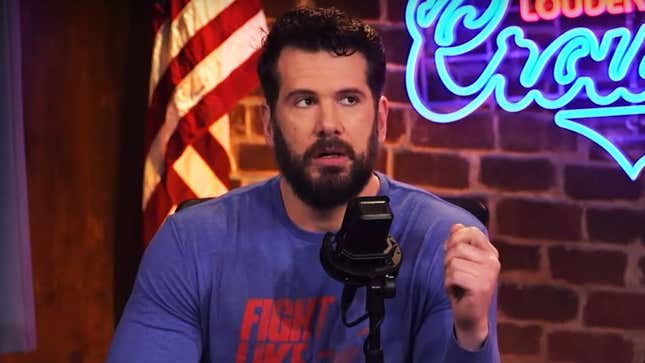 Earlier this week, far-right podcaster Steven Crowder announced on his show that he'd been in the midst of "what has increasingly been a horrendous divorce" since 2021, claimed his ex-wife Hilary is the one who left him, and implied that he opposes the no-fault divorce laws that allowed her to do so. And now, new reporting has rendered all of this exponentially more complicated.
Berkeley Law Professor Calls Out John Hawley's Transphobia
In addition to his divorce announcement, Crowder also accused fellow right-wing provocateur Candace Owens of extortion this week, claiming she was privately threatening to leak private information about his divorce. He cited a January episode of Owens' show in which she alludes to trouble in Crowder's personal life. And this ruckus was all conveniently timed to a series of allegations from his ex-wife's family, who say that Crowder emotionally abused Hilary throughout their marriage—it sure seems like he wants to blame this on Owens!
"The truth is that Hilary spent years hiding Steven's mentally and emotionally abusive behavior from her friends and family while she attempted to save their marriage. She was the one who was asking to work on their relationship to keep the marriage intact for their unborn children," Hilary's family told journalist Yashar Ali in a statement, which included video footage that he shared on Twitter on Wednesday. The family further accused Crowder of being the one to instigate the divorce, claiming he wasn't present for the birth of their children, moved out of their home, cut Hilary off financially, and hired a divorce lawyer.
The disturbing video footage shows an argument between Crowder and a very pregnant Hilary, in which Crowder refuses to let her take the car and leave the house, claiming she failed "to do wifely things."
"The only way out of this is discipline and respect," he tells her at one point in the video.
Later, Hilary tells Crowder, "I love you, but your abuse is sick," to which he replies, "Watch it. Watch it. Fucking watch it." Hilary repeats that she loves him but says she needs space. Crowder then tells her, "I don't love you. That's the big problem. I've never received love from you."
It's a short but chilling clip that offers a glimpse into the extent of Crowder's control over his ex-wife. As the clip makes the rounds on social media, some have pointed out that Crowder's choice to share one car with Hilary despite his exorbitant wealth was deliberate. This is a fairly common tactic among abusers to isolate victims, control their access to public life, and control them in general. Others have argued that Crowder insisting his wife needs "discipline" for not fulfilling her "wifely" duties is "a perfect example of the way conservative men weaponize religious expectations to justify abuse."
The revelations about Crowder's divorce, and now, his ex-wife's family's claims of abuse, are especially eyebrow-raising, given his previous comments opposing no-fault divorce (which allows people to obtain a divorce without proof of abuse or mistreatment) and insinuating that men should be able to legally hold women who no longer wish to be married to them as hostages. It's hardly surprising, but still unsettling, to see video footage capturing just how the emotional abuse played out.
Last summer, Crowder argued that we should change our divorce laws to make it possible for women to be entrapped in unwanted marriages: "There need to be changes to marital laws. … If you're a woman that comes from meager means, and you want to get wealthy… your best path to victory is simply to marry a man, leave him, and take half," he said. "We need to reform divorce laws in this country." On Tuesday, Crowder suggested he disagrees with the laws that permitted his wife to leave him: "My then-wife decided that she didn't want to be married anymore and in the state of Texas, that is completely permitted." He reiterated that the situation was "not [his] choice," and that Hilary "simply wanted out and the law says that that's how it works."
Crowder's claims that he's being extorted by Owens come amid an ongoing cold war between the two. In January, Crowder attacked the Daily Wire, Owens' employer, for offering him a $50 million deal that he characterized as a "slave contract." In response, at the time, Owens said on her show: "Steven has a lot going on, I guess is the best way to say it. He has a lot going on and that should be clear because people don't do stuff like this if there's not a lot going on in their life." She added, "I am unsure at this moment if it is my place to say more than that. Maybe if I feel, in further defense, something should be said, or maybe if I feel that the public has a right to understand certain circumstances."
Crowder now claims these comments were threats from Owens to expose the messiness of his divorce. Owens responded this week by sending him a cease and desist letter, the Daily Beast reports. And to this, Crowder responded by having his lawyer send a letter to Owens stating that she doesn't have grounds for a defamation suit against him. "His lawyer came back and basically said that my claims were not actionable because he was using the term 'extortion' as a feeling," Owens told the Daily Beast.
This is all wildly messy, but amid the dumpster fire that is this latest right-wing media feud, I hope it doesn't get lost that Crowder—an openly virulent misogynist who's profited somewhere in the millions off his misogyny—is accused of emotionally abusing his ex-wife. And, frankly, the video Hilary's family shared speaks for itself.