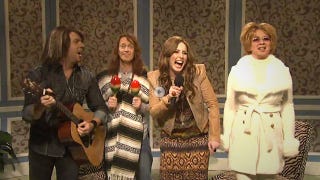 Steve Buscemi returned to host Saturday Night Live last night, and his signature quiet, oddball energy was in full effect. Buscemi spent most of the night playing the same kinds of characters he's played throughout his entire career: low-key creeps or weirdos. He's a pro and pulled it off well, but nevertheless the show was a little low on the LOLs.
The most lively of the night's sketches was the Miley Cyrus Show, which had a very stoned Cyrus hanging out with her dad Billy Ray (played by Jason Sudeikis) and her friend Jeff whom she met at Burning Man (Buscemi, obvs). And thank the comedy gods, the always hilarious Maya Rudolph dropped in and pretty much stole the show with her over-the-top Whitney Houston impression.

Buscemi's opening monologue—in which he gave advice to character actors looking to land leading roles—was also solidly funny. Who doesn't love the clumsy best friend from romantic comedies or the girl from the horror movies who can never find her friends?

There is no better way to get into the creepy Christmas spirit than by having Steve Buscemi go through his box of ornaments and telling the stories behind each one ("This one's been up my butt.") before handing them off to his space cadet lady friend Sheila.

And finally, please enjoy this very truthful commercial for the diet aid which can cure your constipation problems instantly.