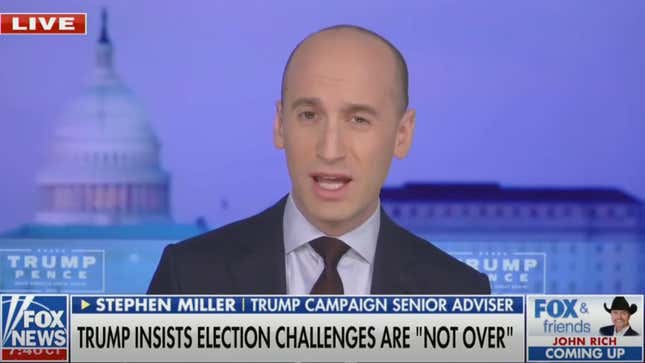 Despite the best efforts of plague rats Rudy Giuliani and Jenna Ellis, Donald Trump's much-desired coup appears to be reaching its natural conclusion—death. While electors in 50 states and D.C. are still casting their votes, unfortunately for the Trump campaign, so far they are following the will of voters in their states—admittedly a low bar for democracy but one that has been cleared nonetheless.

As welcome as it is for people to be following some baseline rules, none of this was unexpected! But that didn't stop Stephen Miller, whose hairline appears to have receded even further in recent months, from going on Fox News this morning and making some wild claims that the Trump administration's long-touted coup can still happen.
"You have an alternate slate of electors in a state like say Wisconsin or in a state like Georgia and we'll make sure that those results are sent up side by side to Congress," Miller said, referring to a not at all weird effort by the Trump campaign to handpick its own fake electors that would cast their votes for Trump in states that he lost. Miller continued: "So that we have the opportunity, every day between now and January 20, to say that slate of electors and the contested states is the slate that should be certified to uphold a fair and free election and an honest result." Huh????
Miller spewed other baseless claims, many of which will likely be echoed by Republican members of Congress on January 6, when the House and Senate convene to formally tabulate the Electoral College votes. More than 120 House Republicans have already all but promised to try and pull some real dumb, real authoritarian shit by co-signing the Texas lawsuit that essentially made the argument that only votes from Republicans matter, and thus Trump actually won the election.
G/O Media may get a commission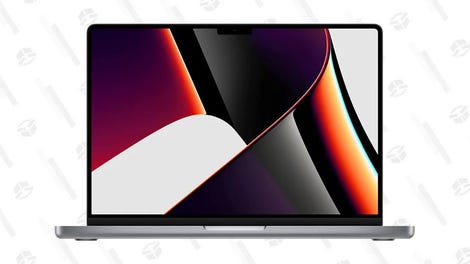 Save $300
2021 14" 1TB MacBook Pro
Please, stop trying to make the coup happen! As disturbing as the long-term implications of the world's dumbest coup are, we're trying to move on!
---
As Pfizer's covid-19 vaccine began its public roll-out today with the first doses going—and rightfully so!—to frontline health care workers and nursing home residents, Donald Trump has had to backtrack from reports that top White House staff, including chief of staff Mark Meadows, would also be first in line to receive the vaccine.
From the New York Times, which first reported the news:
President Trump said on Sunday night that he would delay a plan for senior White House staff members to receive the coronavirus vaccine in the coming days, hours after The New York Times reported that the administration was planning to rapidly distribute the vaccine to its staff at a time when the first doses are generally being reserved for high-risk health care workers.

Mr. Trump, who tested positive for the coronavirus in October and recovered after being hospitalized, also implied that he would get the vaccine himself at some point in the future, but said he had no immediate plans to do so.

"People working in the White House should receive the vaccine somewhat later in the program, unless specifically necessary," Mr. Trump tweeted, hours after a National Security Council spokesman had defended the plan. "I have asked that this adjustment be made. I am not scheduled to take the vaccine, but look forward to doing so at the appropriate time. Thank you!"
What's going on here? Does Trump actually care for once that something makes him look selfish and evil? (Likely not.) Does he not care whether his senior staff live or die? (Likely yes!) At any rate, a significant number of them, Meadows included, have already gotten covid-19. And while the recommendation is that people who have had covid-19 should still be vaccinated, it's more than fine for them to wait for their place in line just like the rest of us.
---