I don't know, did we land on the moon? Plenty of people do not believe that we did, including the people in the farthest reaches of the internet and the most spiral minded Stanley Kubrick fans, but Stephen Curry, nice-guy star of the Golden State Warriors and husband of Ayesha Curry, is not one of these people, OKAY? DEFINITELY BELIEVE HIM WHEN HE SAYS HE IS NOT!

Apparently Curry went on one of The Ringer's zillion podcasts earlier this week and offhandedly mentioned that he believed astronauts did not land on the moon, which immediately prompted NASA to invite him to the Johnson Space Center's lunar lab to show him proof that yes, humans did land on the freakin moon. The context, via the Times:
"We ever been to the moon?" he asked.

The others, in unison, agreed that the answer was no.

"They're going to come get us," Curry replied. "Sorry, I don't want to start conspiracies."
Finberg expressed some skepticism, asking Curry to clarify, and he said he did not believe the United States had landed on the moon, leading to a short discussion of some of the more popular conspiracy theories, including one asserting that the film director Stanley Kubrick had staged the entire thing.
He was joking, OK sheeple? At least that's what he said to ESPN yesterday after telling NASA he would definitely roll through next time he is in Houston:
"One thousand percent," Curry told ESPN on Wednesday of accepting the invite. "One thousand percent. Obviously I was joking when I was talking on the podcast. [Then] I was silently protesting how stupid it was that people actually took that quote and made it law as, 'Oh my God, he's a fake-moon-landing truther,' whatever you want to call it, yada, yada, yada. So I was silently protesting that part about it, how the story took a life of its own."
G/O Media may get a commission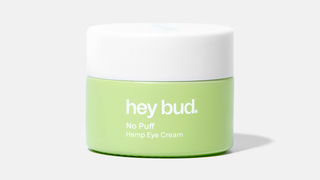 15% off
Hey Bud - No Puff Hemp Eye Cream
Do you understand, everyone? He was silently protesting, yada, yada, yada!
The custody agreement between Angelina Jolie and Brad Pitt doesn't seem to include children Pax and Maddox, mainly because Brad was allegedly weird about adopting Pax after they had baby Shiloh, and also perhaps because Brad is allegedly a b-hole and Angelina is allegedly also a b-hole. Look, I don't know their lives, but this Us Weekly story is messed up and anytime there are kids involved, adults need to just A) get over themselves B) start stashing away money in a children's therapy trust fund for when they inevitably do not get over themselves.

This royal holiday card needs to go in the MOMA. [People]
This royal holiday card looks like a campaign photo for someone running for treasurer in a small-town conservative district in Ohio. [People]
Why is this Ariana Grande lyric video set to video of glaciers apocalyptically melting into the ocean? I look to you for escapism, Ari! [ONTD]