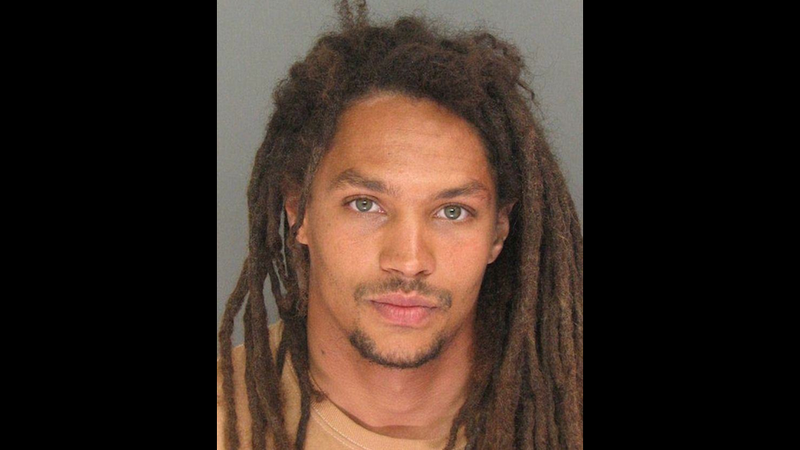 It's been almost five months since six-time felon Jeremy Meeks (a.k.a. Hot Mugshot Guy) stole America's heart, which according to the ancient Mayan Calendar of Green-Eyed Naughty Hotties (forgive me for that) makes it just about time for a new sexy criminal to descend from the heavens. Meet Sean Kory, who was arrested after professing his hatred for Fox News (not so bad) and then attacking a guy dressed up as a Fox News reporter with a tennis racket (bad).
The 29-year-old Santa Cruz resident, who is also potentially the lovechild of Jason Momoa and Jesse Williams, was attending a Halloween parade on Friday when the incident went down. Contra Costa Times reports:
At downtown Santa Cruz's annual parade on Friday night, police said, 29-year-old Sean Kory said "I hate Fox News" before grabbing the victim's microphone prop. The dreadlocked Kory then made an obscene gesture with it before attacking the victim with an aluminium tennis racket, police said.

The victim wasn't injured, but he called police, who ran down the suspect as he attempted to flee.
According to CBS SF Bay Area, the "obscene gesture" was putting the microphone down his pants and rubbing it on his crotch. All's fair in fun and crotch games until you start beating a stranger with a tennis racket, so naturally, Kory was arrested, and now his mugshot is going viral.
To prove my theory that Kory looks exactly Jason Momoa and Jesse William's lost son, I commissioned an artist (uploaded photos to a photo morphing website) to merge the two celebrities' faces, and, well:
Nailed it.
Image via Contra Costa Times.