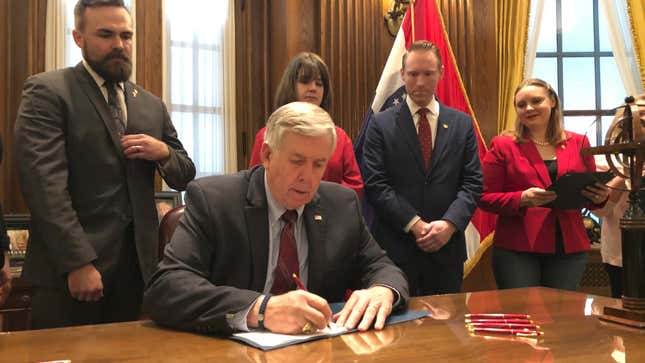 While the extreme, arbitrary abortion bans that have been passed in Republican-led states around the country have (rightfully) led to an outpouring of outrage, those bans are not the only abortion restrictions legislators are attempting to pass this year. On Wednesday, lawmakers in several Republican-dominated states moved on a number of bills to restrict abortion rights, from a bill that would mandate doctors to tell their patients that medical abortions can be reversed to ones that attempt to codify into law the idea that babies are regularly born alive during abortions, a move to equate abortion with infanticide that has recently become the latest tactic of anti-abortion zealots.

Wisconsin's Republican-dominate Senate approved four anti-abortion bills, which will now go to the desk of Governor Bill Evers, a Democrat who has promised to veto each and every one of them.

Here are the details of the bills, per ABC News:
One measure addresses the extremely rare occurrence in which a baby is born alive during an abortion attempt. It would impose criminal penalties on doctors who fail to give medical care to such babies. Organizations representing obstetricians and gynecologists, along with Democratic opponents, say existing laws already provide protections to every healthy newborn, whether born during a failed abortion or under other circumstances.

...

Other bills passed would cut off Medicaid funding for Planned Parenthood, prohibit abortions based on the fetus' race, sex or defects and require providers to tell women seeking abortions using the drug mifepristone that the process may be reversed after the first dose. All three passed on party line votes, with Republicans in support and Democrats against.
Meanwhile, in Louisiana, Republicans, as well as Democrats, in the House and Senate passed a bill putting a constitutional amendment to ban abortion up before voters in 2020:
Both chambers approved the bid for a constitutional amendment, which was sponsored by Rep. Katrina Jackson, D-Baton Rouge. This measure would potentially amend Louisiana's constitution to say that it does not protect the legal right to have an abortion or to secure public funding for the procedure.

The House voted 79-20 on the measure, sending it to the Senate which approved it with a 33-5 vote.

It is now up to Louisiana voters to decide. Jackson's constitutional amendment will be placed on the statewide ballot for the 2020 presidential election, held in November. This was changed from the original proposal, which would have scheduled the amendment for this year's October gubernatorial primary.

The amendment would not immediately go into effect because the U.S. Constitution grants the right to an abortion under the U.S. Supreme Court's landmark 1973 Roe v. Wade ruling.
But in some good news, Republican House members in North Carolina failed to override a veto by the state's Democratic Governor Roy Cooper of a bill that, like the one passed in Wisconsin, would have made it a crime to not provide medical treatment to "any infant born alive after an abortion," whose intention, if it needs to be underscored any more, seems solely to continue driving their narrative of abortion as murder. While a majority of House members voted in favor of overturning the veto, it fell short of the three-fifths majority. The bill had initially passed both chambers of the state legislature. After Cooper vetoed the bill in April. the Senate voted to override the governor's veto shortly after.
In the case of North Carolina and Wisconsin, the fact that these bills even made it to their respective governors' desk underscores how partisan gerrymandering has enabled Republican legislators—who by no means represent the majority in their states—to pass extreme anti-abortion legislation. As the New Republic noted recently, "This is how a minority hijacks politics."