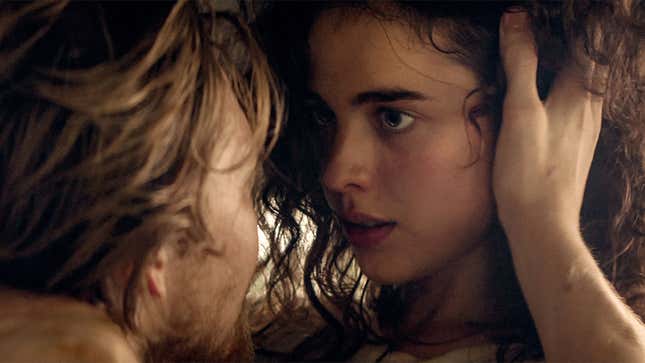 Here's part 2 of our New York Film Festival coverage, with reviews of the new Park Chan-wook movie, Decision to Leave; the donkey drama EO; Elegance Bratton's feature debut, The Inspection; and Margaret Qualley's wild, wild turn in Claire Denis' Stars at Noon. (And here's part 1 of our coverage.)
---
Stars at Noon
Margaret Qualley in Stars at Noon, like Showgirls' Nomi Malone, is no butterfly. She's all pelvic thrust. I mean, she prowls. She's got it! Also like Nomi Malone, her character Trish is prone to rapidly cycling through giddiness and rage—her outbursts are almost as frequent as the downpours in Nicaragua, where she is stranded while in the possession of fistfuls of the local currency, córdobas. She turns tricks for the much more valuable U.S. dollar, which is how she gets mixed up with Daniel (Joe Alwyn), a Brit in town for…business or something. They're both in trouble and headed for more, and her attempts to get a plane ticket home to D.C. are complicated by her association with him, as he's suspected of some shady dealings having to do with oil. ("He's taking advantage of local elections and meddling with the balance of power that was so difficult to achieve," a CIA agent played by Benny Safdie later explains. Like much of the movie's dialogue, it takes a stab but stops short of clarity.)
The makeshift couple are not in so much trouble that they don't find the time to drink prolifically and fuck near constantly. Qualley as Trish, a self-described journalist who wrote on recent kidnappings and hangings but is firmly dismissed by her editor (John C. Reilly in a cameo) for having taken his magazine for a ride, goes for it. The problem with this movie, directed by beloved French auteur Claire Denis, is that what it is remains elusive. Why is anyone doing what they're doing, ever? Trish splashes in puddles, smokes while eating eggs, screams "EAT ME!!" to a man on the street who calls out to sell her a car, and is nude about as much as, yes, Elizabeth Berkley in Showgirls. This includes stray shots of her on the toilet and changing, as if to remind us that gratuitousness is the very point of the exercise at hand.
Stars reminded me of something that would find a home on HBO for a few months in the late '80s and then disappear with little fanfare. (It's based, appropriately enough, on Denis Johnson's 1986 novel of virtually the same name, The Stars at Noon.) I was entertained by Qualley's performance as chaos incarnate (she rocks a puff of hair that's an untamed version of her mother Andie MacDowell's signature locks, and her character is extremely preoccupied on getting her hands on shampoo in multiple scenes), but because the storytelling is so opaque and its characters take everything in stride—when they aren't embracing dramatically—it's really hard to grasp the stakes. At one point, while Daniel drives a stolen van, Trish lies in the backseat and announces, "This is our honeymoon." Sure! Knock yourself out.
---
Decision to Leave
If Stars at Noon is an erotic thriller that's heavy on the former and all but missing the latter, the new movie from Park Chan-wook (who blessed us with The Handmaiden), is the inverse. Decision to Leave is noir down to the femme fatale, a Chinese national in Korea named Seo-rae (Tang Wei) who is accused of killing her husband, but the brewing chemistry with the detective assigned to her case, Hae-jun (Park Hae-il) isn't consummated. The obsession is there, but the sex isn't—it's almost as though the kink is the investigation, not whatever ensuing physical contact could take place. At nearly two hours and 20 minutes, Decision to Leave's many twists make it feel even longer, and I'm not sure it justifies all of its convolutions.
Nonetheless, it's packed with the kind of cinematic ingenuity that Park has built a legacy on—crash zooms, slick transitions, a POV shot from the open eye of Seo-rae's husband as he lies dead on the ground (an ant craws over the lens), Hae-jun being inserted into a room that he's not actually in as he puts himself in Seo-rae's place while observing her, attempting to understand what's going on. There is an extremely clever device using a half-understood translation (Seo-rae's Korean isn't so great) that I'm sure is even better if you speak the language. The dialogue, nonetheless, is brilliant at times ("Killing is like smoking—only the first time is hard"), and the resolution, in which Seo-rae conveys her love for Hae-jun in a manner that is both massively compassionate and self-defeating, is moving. Decision to Leave was like the flu—overwhelming as it was happening, but then once it was over, it was over. Truly, an experience.
---
EO
Polish director Jerzy Skolimowski's EO is a movie about the beauty of nature and the ugliness of humanity. It follows the titular donkey, the film's protagonist, around Europe after he's repossessed from a circus. With little dialogue and closeups on the donkey star's massive, shiny eyes, this is a movie that enforces empathy, illustrating the toll that treating sentient beings like property takes on them. EO bumps around from a sanctuary to the wild to a soccer field, where he's adopted by revelers who blow weed in his face and offer him beer until a rival team infiltrates and ends up beating him. (A title card makes explicit that despite the realistic violence, no animals were harmed during the making of this film.) He finds himself on a fur farm that, in a bit of anthropomorphic editorializing, he flees by kicking its operator unconscious, and then in the hands of a prodigal son of a wealthy family, who wonders, "Did I just save you or have I stolen you?" Despite EO's aimlessness, his battle for freedom is gripping. Run, EO, run! No matter where—just run!
The choice of telling such a story through the eyes of the donkey seems not at all coincidental, as the animals' "stubborn ass" reputation is actually contested by people who have spent time with them: "Smarter and more personable than a horse and just below the threshold of canine character, donkeys are emotional animals who bond for life, and if they earn your trust will do just about anything you ask of them, owners say. They come when you call them and between ear rubs, treats, and nuzzles, newbies are smitten," reported the Denver Post. Every frame of EO earns the right to revision.

---
The Inspection
Pier Kids director Elegance Bratton based The Inspection, his first feature, on his actual experience in the Marines. Like Bratton, his protagonist Ellis French (Jeremy Pope) joined the military after years of homelessness on account of getting thrown out of his house as a teenager for being gay. The personal touch makes all the difference in The Inspection, which, despite its big ideas, is a relatively small story about a young Black man finding a way to thrive in a hostile environment. The movie takes place in the thick of Don't Ask Don't Tell, and one of the most fascinating aspects of it is how French's sexuality is handled by his superiors and fellow recruits—they know, pretty much, but they can't really do anything about it officially other than make his life a living hell. As soon as he's off the bus, training instructor Leland Laws (Bokeem Woodbine) goes Full Metal Jacket on his and the other recruits' asses (a scene of them getting their heads shaved is an even more explicit tip of the hat to Kubrick's Vietnam classic). Laws isn't as one-note as some other barking instructors we've seen on film—there is at times a near softness in his cruelty—and French finds something close to sympathy in instructor Laurence Harvey (Raúl Castillo, who has filled out since his Looking days and is all the more woofy for it). French and Harvey's relationship simmers, but the movie takes it for a surprising turn that veers away from cliche. Brokeback Bootcamp this isn't, and it's better for it.
That said, Bratton is at his best when he's showing the overlap between the homosocial and the homosexual—a fantasy sequence in which the shower room lighting changes and all of the recruits lounge longingly in their towels, draping themselves over each other and looking on with lust in their eyes, is absolutely ingenious (and so hot!). Similarly unforgettable is Gabrielle Union's dressed-down performance (somewhere between a supporting role and a cameo) as French's mother, who wants the best for him...on her terms. The turns she takes while expressing "support" are absolutely devastating. This is the stuff Best Supporting Actress nominations are made of.