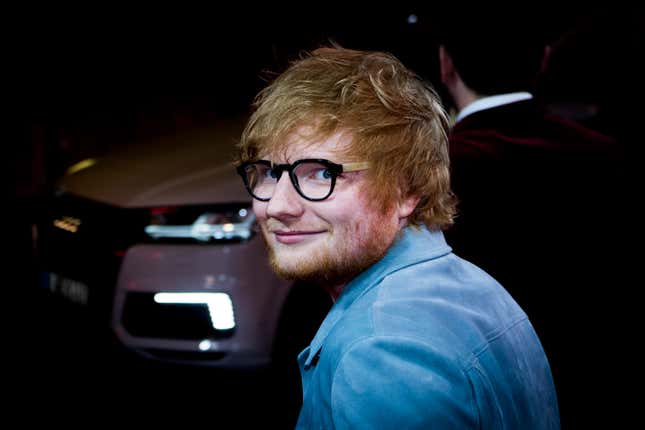 Add, subtract, multiply divide—no matter how you do the math, Ed Sheeran participated in some scabby, loser behavior last Friday. The singer picked up a shift at a Seattle Starbucks location that's been the target of extensive union busting tactics from corporate as a way to promote his two shows in the city over the weekend and his upcoming album Autumn Variations. "Bad Habits" indeed!
Starbucks Workers United, a collective of workers organizing Starbucks locations across the country, called Sheeran out on Saturday. "Ed Sheeran working a shift at a Starbucks store in Seattle that faced massive union-busting is straight up embarrassing," they tweeted.
Starbucks Workers United added, "Not to mention almost every "worker" you see in that photo wearing a green apron is management, not baristas."
Now why was Mr. Math Equations slinging macchiatos to promote his album? Incredible question. Like I said, the upcoming album is titled Autumn Variations, and he donned the green apron to help "launch the pumpkin spice latte," according to his Instagram post. It feels fitting right? World's blandest entertainer peddles world's blandest coffee. A queue of people whose personalities center around seasonal decor wrap the block. The situation would be bleak enough without the scabbing element.
Not only was Sheeran serving lattes but he was serving JOKES as well—and thank god, because I, for one, could use a laugh! "Thanks for having me @starbucks, if you gave me your name I gave you a new one, for I am the barista of joy," he captioned his Instagram post like a silly trickster of yore. ....Oh. OK. The video shows him giving a man named Rob a cup with "Daisy" written on it and a woman named Erin a cup labeled "Dennis." Jokes as funny as his music is moving. Thanks Ed, stellar work all around.
---