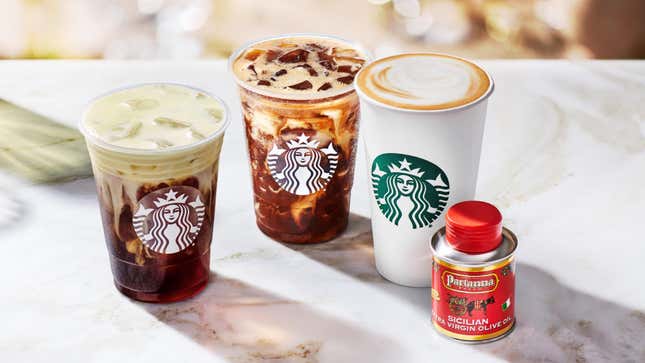 If you're looking for what's happening on the cutting edge of counterculture, and by that I mean barista counter culture, look no further than your local Starbucks. The twisted and innovative minds behind the Summer Berry Panna Cotta Frappuccino and the Iced Sugar Cookie Almond Milk Latte are introducing a brand new way to make you frantically search for the nearest toilet: olive oil infused coffee, aka the "Oleato."
A Game of "Odds and Ends" with Stephanie Hsu
"Oleato represents the next revolution in coffee that brings together an alchemy of nature's finest ingredients–Starbucks arabica coffee beans and Partanna cold pressed extra virgin olive oil," CEO Howard Schultz wrote in a statement. Is putting olive oil in coffee a rich Italian tradition, the way Mexico uses cinnamon in their morning cup of joe? How do I say this in a way Italians and Americans might both understand: No.
Schultz, an Italophile and noted union-buster, told CNBC that he "discovered espresso and the Italian coffee bars in 1983" and came up with this brilliant idea all on his own. "It was that trip that inspired me to bring the ritual of handcrafted espresso to Starbucks and to America," Schultz wrote in the statement. We gotta regular Christopher Columbus over here! But it is true; Before 1983, no one in the United States knew about espresso. You think no one remembers the 70's because of the psychedelics? Wrong. It's because everyone was ASLEEP.
As of right now, for anyone bursting at the seams to try the Oleato, the Oleato Caffè Latte, the Oleato Iced Shaken Espresso, the Oleato Golden Foam Cold Brew, or the Oleato Espresso Martini—they're only available in Italy. For those not willing to fly to Milan for bad coffee, I bet you could just dash some Graza into your own brew. I would just make sure you're near a bagno.