On Friday, The Guardian reported that Michele Landis Dauber, a law professor at Stanford university, was told repeatedly by the law school's administration that she could not use screenshots of the Donald Trump Access Hollywood tape in promotional material for an upcoming conference on sexual assault, which she is co-chairing.

Ana Gasteyer Satirizes the Girl Boss in 'American Auto'
In emails obtained by The Guardian, the associate dean of the law school informed Dauber that using these images could be "seen as partisan," and would therefore violate university policy. Stanford is listed as a sponsor for the two-day conference in May, and, as a not-for-profit organization, its policy is to prevent individuals from engaging in political activities on the university's behalf.
It's fairly easy to punch holes in the university's assertion that it is preserving its veneer of fairness and non-partisanship (which in itself is not necessary a noble goal, but the corporatization of higher ed is for another blog), and not actively censoring a faculty member from merely reiterating what the president has already admitted to on tape.
For one thing, Dauber claimed that she raised the bulk of the event's funding, and that most of it came from sources other than Stanford.
G/O Media may get a commission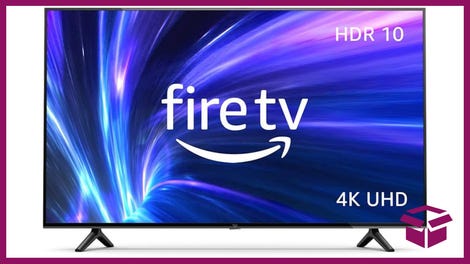 42% Off
Amazon Fire TV 50" 4K Smart TV
The conference also happens to be called "The Way Forward: Title IX Advocacy in the Trump Era." Its goal, as stated on its website, is, "to construct a clear and coordinated way forward to prevent as much retrenchment as possible and continue to protect the interests of women and other survivors of sexual assault and domestic abuse in the educational space." The event's very existence is predicated on the justifiable fear that Title IX will be scaled back under the Trump administration, a political issue that I'd venture is related to Trump's raging, misogynist attitude, and just as real.

"This poster isn't advocacy," Dauber told The Guardian. "It's just a picture of a news event." While I'm not totally on board with Dauber's downplaying of the image's power (I might not call it "advocacy," but it's provocative, and that's ok), I get her frustration that incredibly relevant—and, now, Pulitzer prize-winning—footage of our president would be construed as biased by a top academic institution.
In any case, after being rebuffed by the administration, Dauber tried a different strategy, suggesting a picture from the Women's March be used in the conference's promotional material instead. According to The Guardian, the university also deemed that image too partisan, though they eventually caved and allowed a picture from the Women's March to appear on the conference's website.
In the hours since the article was published, Stanford's president for communications, Lisa Lapin, provided The Guardian with two very different comments. Initially, Lapin claimed that Dauber had not, in fact, been prohibited from using the images, and demanded the article be retracted. After The Guardian pointed out some of the emails between Dauber and the associate dean, Lapin was forced to admit that that the law school, "did not believe the photo was appropriate," and added that, "the university has in fact not made any final decisions in this matter."