Now that the polar vortex has banished its horrid self from our presence our minds may freely travel to spring, which is lurking alluringly on the horizon. Nowhere is that more apparent than in the fashion world, whose February issues are bursting with new ad campaigns for designers' spring/summer lines.
It's a lot to wade through on one's own, so here is a round-up of some of the most note-worthy images and occurrences:
So Many Celebrity Campaigns
Spring/summer 2014 is the season of celebrity campaigns — several designers have opted to have singers and actresses represent the brand instead of models. I mean, I guess if you're going to have someone be your creative muse, why not have her in your campaign?

Rihanna for Balmain
G/O Media may get a commission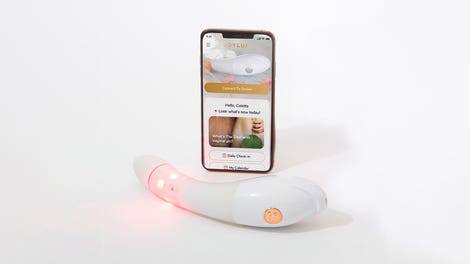 $50 Off
Joylux vFit Gold Device
Rihanna is the face of Balmain this season, a hugely high-profile collaboration. It's an ideal pairing; I can't think of any celebrity who better embodies the fashion house's edgy, rock star aesthetic (or anyone who looks better in Balmain's typical silhouette). Towards the end of 2013, Olivier Rousteing, the label's creative director, told Vogue, "In front of the camera, she makes you feel like she is the only girl in the world. When the woman that inspires you wears your creations, your vision feels complete."
With all of that said, it's too bad that the campaign itself is a rather uncreative rip-off of the Balenciaga fall/winter 2012 campaign.
Lady Gaga for Versace
Lady Gaga is the face of Versace! She's been quite vocal about her admiration for Donatella Versace — there's a song called "Dontaella" on ARTPOP, after all. In the images (which were shot by Mert and Marcus, who did both of Gaga's Vogue covers), Lady Gaga looks eerily like a young Donatella. As the old adage goes, "wearing a wig version of someone's hair is the sincerest form of flattery."
Gaga wore the dress from the top image on the AMAs red carpet, making up for its relative tameness by sitting on top of a massive fake horse, as one does.
Miley Cyrus for Marc Jacobs
Miley Cyrus appears in this season's Marc Jacobs ads — as noted previously, Juergen Teller refused to shoot her, so this campaign was photographed by David Sims. And this is a very reciprocal muse relationship: in December Miley told Hunger Magazine that Jacobs "kind of brought [her] into fashion when [she] was 16." She added, "He kind of let me inspire some of his pieces," so it's a two-way street. Other successful collaborations: Miley wore Marc Jacobs to the Met Ball last year, and now he's designing her tour wardrobe.
Recently the adds have come under fire from feminists who believe that the red-haired girl looks like a dead body, which is not something I originally thought of (I saw it as more of a trite, not very visually appealing attempt to show dreary indolence). Kira Cochrane at The Guardian points out that the figure of the "beautiful corpse" is far too common in fashion. "This obsession with death isn't so surprising, when you consider it as the obvious and ultimate end point of a spectrum in which women's passivity and silence is sexualised, stylised and highly saleable," she writes. "None of the models in this ad make eye contact with the camera, and they all look gaunt and despondent. The image evokes a shipwreck scene — as though the models and Miley Cyrus have been marooned and are wasting away — but it's stylized and glamorized in a disturbing way. Not into it at all."
On a lighter (literally) note, this is the reason Miley bleached her brows off temporarily, so react accordingly.
Lupita Nyong'o, Elle Fanning, et. al. for Miu Miu
Miuccia Prada got Lupita Nyong'o for her spring 2014 campaign, and all of the other fashion designers in the world are fools for not doing so themselves. Also featured in this campaign are several other up-and-coming actresses — all of whom are either beloved by the fashion world (Elle Fanning, Elizabeth Olsen) or about to be beloved by the fashion world (the stunning Bella Heathcote, most recently of Dark Shadows). This campaign was shot by Inez & Vinoodh; you can view more shots here.
A$AP Rocky for DKNY
Not only did DKNY's spring campaign feature supermodels Cara Delevingne and Jourdun Dunn — notable on its own — it also included rapper A$AP Rocky. The rapper is known for being very involved in the industry, and he's no stranger to high-fashion fare, so some sort of collaboration on a campaign was a long time coming. See the rest of the images here.
Kate Moss for Alexander McQueen
Ok, so this is not technically a celebrity campaign, but whatever — it's been a long time coming, and it's a fairly big deal. This is Kate Moss' first-ever campaign for Alexander McQueen, a house she's held a close relationship with for years, and it's quite possibly the season's best. The dark, surreal, futuristic feel perfectly complements Sarah Burton's warrior-inspired collection. The gorgeous photographs and accompanying fashion film (below) were both shot by Steven Klein.
More Designers Actually Used Models of Color
I was a bit reluctant to make this a category because I didn't want to imply that it's a trend or a seasonal predilection, especially because a lot of the racism is the fashion industry occurs under the flimsy mask of "aesthetics" — such as when an agent from Ford Models Europe said, "It's not racism [that so few black women are featured on European catwalks]. Things are not like that. Models have to fit in with trends (and) the current fashion is a minimalist one that the designers associate with Asian girls."
The fact that several campaigns are more diverse than ever before shouldn't be seen as specific to spring/summer 2014, nor should it be seen as a big accomplishment. It should be seen as what it is: a step in the right direction, after a great amount of pressure from critics within and outside of the industry.
Erykah Badu for Givenchy
Givenchy's new campaign (also another celebrity campaign!), which was shot by Mert and Marcus. Earlier this year, Riccardo Tisci announced that he'd be using Erykah Badu as a muse for this season — he told Style.com that he made the line with her in mind ("Erykah — she's an icon, come on! ... She's one of the most stylish women I've met in my life"). Notably, he also intentionally cast exclusively models of color; in addition to Badu, the ads feature Asia Chow, Eboni Riley and rising star Maria Borges. Tisci was very self-congratulatory about the whole thing, saying, "There was a lot of talk [about race] this season in fashion. Me, I was one of the persons who ended up not being touched by this. I discovered Joan Smalls, I discovered Maria [Borges]." Smugness aside, it is true that Tisci has championed several models of color — plus, this is one of the most striking image sets for this season, in my opinion.
Burberry Prorsum
Out of four female models for Burberry Prorsum — Malaika Firth, Neelam Johan, Matilda Lowther, and Jean Campbell Bower, who (side note) is an actual aristocratic Lady — two were women of color. That's great news, especially considering that the brand has put out some overwhelmingly white campaigns in the past few years.
This is such a lovely collection, and the photography (accordingly) is gorgeous and sumptuous, perfectly capturing the line's romantic feel. As usual, it was shot by Mario Testino. Here's the crew looking less delicate in the brand's signature trench:
Prada
Prada's spring/summer campaign is not diverse, unless our working definition of diverse is "not all white people." Nor is the very limited diversity a new thing — it's worth noting that Malaika Firth, who appears in the second ad here, was in last season's campaign as well. The other model of color, for those keeping score at home, is Cindy Bruna.
Diversity issues aside, I really like this campaign — Prada's spring/summer designs are so bold and bizarre and overwhelming, and the sensory overload that comes from beholding all those models wearing all that weird shit is a good reification of the arresting nature of the clothing itself. And what better way to represent a line that's all about exaggerated femininity than a sea of women? (Too bad that the sea of pale countenances is a bit snow-blinding.)
Valentino
Valentino also doesn't have a very good track record of including models of color in its campaigns, so it's slightly encouraging to see the inclusion of one — Malaika Firth, again (DOES MALAIKA FIRTH HAVE TIME TO SLEEP?).
This was shot by the inimitable Craig McDean; the juxtaposition between the elegant, romantic gowns and the surreal background is quite dramatic, almost reminiscent of myth — which makes sense, since opera was the inspiration for the line. Valentino spring '14: the best-dressed sorceresses one will ever behold. A bunch of elegant fashion-Medeas. You can see the rest of the images here.
Prabal Gurung
Prabal Gurung has released his first-ever print campaign (he normally does online-only), and it's gorgeous. It stars the lovely Liya Kebede; not prepared to entirely relinquish unconventionality, Gurung revealed that she'd be the face of the campaign in a not-very-cryptic tweet:
Out With the Old, In With the New
This year has been fairly turbulent, re: creative directors and visionaries. This season, we have Alexander Wang's second campaign for Balenciaga and Marc Jacobs' final campaign at Louis Vuitton. Let's have a look:
Alexander Wang for Alexander Wang
Alexander Wang's campaign for his namesake line continued to embody New York cool, with a very unmistakable — and totally tongue-in-cheek — nod to gritty, rebellious youth. Nothing says "FUCK YOU MOM!" like a wearing Parental Advisory crop top while you cut class with your legs splayed in the high school public restroom. The expensive shoes in public restroom stall thing's been done before, but I'll take it.
Alexander Wang for Balenciaga
What a world of difference: from a campy, attention-grabbing campaign set in a dirty public bathroom to an elegant, muted (and, let's face it, pretty boring) rose garden populated by the austerely sultry Daria Werbowy. Not even those up-in-arms over his appointment as creative director can deny that the man is very versatile. I just wish this didn't feel so sterile and uninspired.
Marc Jacobs for Louis Vuitton
For his swan song at Louis Vuitton, Jacobs chose to pay tribute to six of his muses — Catherine Deneuve, Sofia Coppola, Gisele Bündchen, Fan Bingbing, Caroline de Maigret and Edie Campbell — in a series of minimalistic, evocative portraits. There were rumors circulating the blogosphere that Kerry Washington — who's worn pieces from the house quite a lot — would be featured in the final campaign, but, alas, no.
As Frédéric Winckler, Vuitton's communications and events director told WWD: "It was a very emotional shoot, and I find this shows in the images... It's not a melancholic campaign. It's really celebrating women who inspire Marc." It's also celebrating some of the house's iconic designs ushered in by Jacobs, like the monogrammed luggage and the Noé bag.
You can see the rest of the images here.
Same Old, Same Old
And now, in nothing new:
Saint Laurent
Hedi Slimane shot some high-contract black and white images with a vague rock-star aesthetic. Surprise!!! Move over, Natalie Westling, I'm about to fall asleep on that anti-fashion fashion leopard spotted bedspread.
Dolce & Gabbana
Conversely, Dolce & Gabanna's ads show that doing the same thing over and over sometimes works splendidly — it features sprawling, festive, crowded scene with an Italian inspiration, just like the past several campaigns. This is great and eye-catching and fun, and the clothes look wonderful (especially in little baby versions). If a campaign concept's not broken, why fix it?
Christian Dior
Raf Simons has opted to stick with the dreamy, surrealistic clouds that appeared in last spring's campaign; once again, it was shot by Willy Vanderperre. You can see the rest here.
Chanel
This is pretty boring.
And, In More Unconventional...
Some of the less typical ads this season:
Céline
Céline's spring 2014 campaign was shot, as usual, by Juergen Teller — but these images are so much more dynamic and colorful and interesting that Teller's campaign work in the past. It's a great choice, and very appropriate. I'd hate to see those insane coats overexposed and modeled on rigid, expressionless women.
McQ by Alexander McQueen
I WILL MAKE NO COMMENT ON THE TRAGIC CLOWN FOR MCQ BY ALEXANDER MCQUEEN. (Okay, it was shot by Steven Meisel.)
Stella McCartney
The overblown sensuality of the image on the left juxtaposed with the stark simplicity of Suvi Koponen, shot in black and white, is wonderful. McCartney styled it herself and told Vogue.it, "I wanted to capture the freshness and sensual side of summer. To evoke a sense of lushness with the images of fruit bursting with life and love."