Sitting in a movie theater over the weekend, waiting for Spring Breakers to start, there were a bunch of groups of guys entering the theater, and just a few women. Makes sense: The trailer and posters promised guns and bikinis. And for those of us hoping for a glimmer of girl-power from a flick with four female stars, the results were mixed.
Ana Gasteyer Satirizes the Girl Boss in 'American Auto'
Over the past few years, there have been quite a few flicks in which male writers and directors put guns in the hands of young women: Hanna, Sucker Punch, Kick Ass. (And obviously it's not new — Pam Grier brandished a shotgun throughout 1973 revenge flick Coffy.) In Spring Breakers, Harmony Korine — known for Kids and Gummo —puts weapons in the hands of Disney stars Selena Gomez and Vanessa Hudgens, Pretty Little Liars star Ashley Benson, and his wife Rachel Korine. And it feels like a movie directed by a man; there are heaps and heaps and heaps of bare breasts, and of the four ladies who star, Korine's wife is the one who ends up writhing on the floor topless.
When the trailer was first released, I wondered: Would these ladies be the kind of bad-ass gunslingers you find yourself cheering for? Or just participants in some kind of chicksploitation flick? The answer is yes and no, both and neither.
The main characters — Brit, Candy, Cotty, and Faith — are not especially finely drawn or well-rounded. That said, the film does immerse you in their world of Britney Spears songs, bong hits, cutesy backpacks, nail polish… and crime. The American movie canon is filled with "classic" films in which you root for someone doing despicable things, but more often than not — from Goodfellas to American Psycho to Usual Suspects — these antiheroes are men. The fact that these are young women — facts highlighted constantly because they look really really young (at one point James Franco's character tells Selena Gomez's character that she looks about fifteen) and because the wardrobe consists primarily of bikinis — does make for tense, intriguing viewing.
G/O Media may get a commission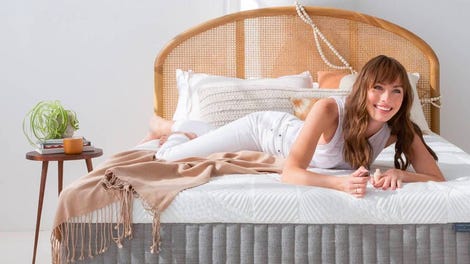 Sleep Sale
Sleep Sale - Brentwood Home
I liked it, but it wasn't great. I wanted it to be better. Being intentionally vague: It's pretty cool the way the tables were turned; the sex and violence persist to the point that you feel like something bad is going to happen to these young women, but before too long, you realize the "something bad" is these young women. That said, the endless shots of breasts, the infinite bikinis, the camera lingering on crotches, the tenacious and stubborn male gaze muddied the water for me. There were excellent performances by both Selena Gomez and James Franco, the very stylized direction was hypnotic, it has all the makings of a cult classic, and it's not like I hated it, but there was something missing from Spring Breakers. Maybe it just felt more like a male fantasy than an emotional find-a-way-to-make-life-worth-living/woman-take-charge battlecry it could have been.
Before the movie started, there was a trailer for Bling Ring, another movie about girls and crime, based on a true story and directed by Sofia Coppola. Perhaps her version of girls gone wild will pack more heart and soul and emotional investment into the story. Because I love the idea of strong, take-no-prisoners female antiheroes, but despite its fun-in-the-sun promises, Spring Breakers left me a little cold.
'Spring Breakers' Scores Top Limited Opening of 2013, But Big Challenge Lies Ahead [The Hollywood Reporter]
Selena Gomez Stunned By Real-Life 'Spring Breakers' [MTV]
Selena Gomez on Racy Spring Breakers Role: It Was My Mom's Idea, "I Didn't Really Know What I Was Getting Myself Into" [Us]