I cannot believe what a complete turnaround Spencer Pratt and Heidi Montag have made in my personal court of public opinion, just by being complete weirdos all the time and straight douching $10 million (the crystals thing didn't hurt either). Like...do I like them now? Are they my...favorite celebrities? Anyway, today in "okey dokey," Spencer finally finished college. Ten years after he enrolled.
"Today was my last day of College @USC! Best 10 years of my life! #Trojans," Pratt tweeted on Dec. 5.

"I'm done with classes," he tells Us Weekly exclusively. "I still have one final, Spanish 3, but thankfully I have two weeks to study for it. My degree is going to be in political science."

So what took Pratt, 30, so long to complete his coursework?

"I was busy being famous!" Lauren Conrad's former nemesis explains. "USC was so much fun, though, and you can never learn enough. Of course, I should probably have a doctorate or two at this point, but I'll take it."
EXPLAIN TO ME WHY I SHOULDN'T FIND THIS CHARMING. Also, doesn't the fact that they're still together make you feel like they probably actually love each other!?!?!? How the eff did that happen!?!???? HEIDI AND SPENCER I WILL NEVER STOP PROBING YOUR MYSTERY. [Us]
---
Noel Gallagher weighed in on Miley Cyrus, FINALLY.
I think there's a trend, unfortunately, in the game, at the minute, of girls desperately trying to be provocative or desperately trying to – in inverted commas – "start the debate" about some old shit or other. Because, really, they're not very good. Do you know what I mean? We have it in England regularly, and you have it in the States. I feel bad for 'em. It's like, "Write a good song. Don't make a provocative video – write a good fucking song. That'll serve you better, I think." She was on TV recently, Miley Ray Cyrus, and it was just like, "What the fuck is all this about?" I don't know. It's a shame, because it puts all the other female artists back about fucking five years. Now, Adele and Emili Sande – that music, to me, is like music for fucking grannies, but at least it's got some kind of credibility.

It's just embarrassing. Be good. Don't be outrageous. Anybody can be outrageous! I could go to the Rolling Stone office and fucking shit on top of a boiled egg, right? And people would go, "Wow, fucking hell, that's outrageous!" But is it any good? No, because, essentially, it's just a shit on top of a boiled egg. That's all it is. If I was to go to your office and play you a song that I'd just written that was amazing, that would be better, wouldn't it?
G/O Media may get a commission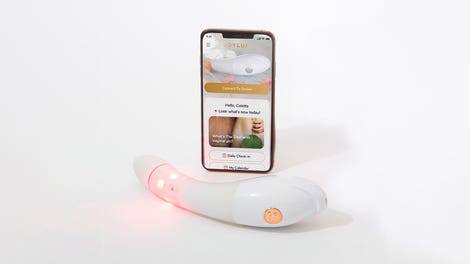 $50 Off
Joylux vFit Gold Device
Say what you will about Miley Cyrus, um, oeuvre—but she can't NOT sing. [RollingStone]
---
Lindsay Lohan went swimming in a bathing suit like some sort of scarlet woman. [Us]
AAAAAAAAHAHAHAAAHAHAHAHAHAHAHAAHAHAH OH MY GOD CLICK IT CLICK IT [E!]
Here's Dakota Johnson on the Fifty Shades of Grey set. [JustJared]
Gwyneth Paltrow and Chris Martin have been married for ten years. [E!]
Stella McCartney hung out with Dame Edna while wearing a Dame Edna costume. [Express]
Scott Speedman went shopping. Remember to call him "wormlip" because it makes me laugh. [JustJared]
Here, say something cruel to Nicky Hilton for no reason. [Us]
Keri Russell is having a rough week. [E!]
THIS VIDEO, ALWAYS AND FOREVER.

Image via Getty.