The Soul Train Music Awards were actually filmed on November 7 in Las Vegas, but they aired Sunday night so we remember the red carpet just like it was yesterday. Oh, the memories! Lotta sparkles, satin, and plunging necklines in this piece.
Pop music awards shows are great because attendees can go black tie, or they can totally not, and everyone fits in, they're like the communism of awards shows, OF SORTS. That's how House of Payne's Demetria McKinney (wearing red) and opera singer Alyson Cambridge (wearing peacock print) can go red carpet formal in satiny gowns with trains, while singers Justine Skye (in white) and Troi Owens (in plaid) can rock something a little more junior's section casj and look totally cute and appropriate. POP MUSIC, THE GREAT EQUALIZER.
HOWEVER! Just because anything goes does not mean all sense of decency can go out the window! From left: Da Brat is doing her thing but needs to heed the classic Coco Chanel advice and remove the one (or two) most distracting elements of this ensemble. Lose the headband and unmatching jacket and we can work with this. Leela James' look in a thumbnail pic is in theory okay—it would be fine if that catsuit were a block of red, but yo, two patterns of lace in different shades and fifty-leven necklaces tangled together like the bottom of a neglected jewelry box shoved underneath an Ikea Poäng footstool in one's bedroom. Cassie Johnson played it safe by wearing various textures of black, but the flow of this ensemble is architecturally unsound: too many lengths competing for body space. Paxton Baker, with Boris Kodjoe, is Centric's boss so you can imagine his enthusiasm for his network's marquee event, but wrapping himself as a Christmas gift is a little bit presumptuous, no?
G/O Media may get a commission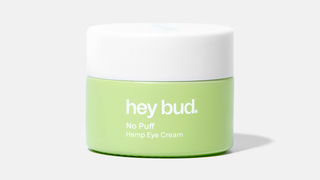 15% off
Hey Bud - No Puff Hemp Eye Cream
There were only two ensembles that made it into the uglies, but wow, were they. Luenell is a comedian and therefore can technically make wacky outfits work because of her profession, but tie-dye leopard dashiki plus leather leggings plus open-toed sandals is no laughing matter AMIRITE. Ledisi, who is everywhere, also went kat krayzee with the leopard print, giving too much of a good thing all at the same time. It's rough out here.
Lots of the best looks were comprised of simple black ensembles, with lace and plunging necklines as the hook on this beat. Lil Kim and Michelle Williams showed varying degrees of lace onesies, tailored to both the conservative and not-so-conservative personas, while younger singers Sevyn Streeter and Tinashe were just like, "Hello, red carpet, bodyodyody, bye."
So many good sparkles! And so much ideation for our holiday season jams. Host Wendy Williams was the brightest and the sparkliest, taking her master of ceremonies job seriously, while jazz singer Kandace Springs took it a little fresher and kickier with a super cute mini shift and sneakers. MC Lyte is rendering us speechless in her gorgeously patterned gown—has she ever looked better? In theory, Erica Ash's look shouldn't totally work: the red lamé and collar and plunging neckline and houndstooth belt altogether, on paper, are too much, but she pulls it together and presents it with a festive elegance, so give it up for Erica Ash.
FINALLY: CAN WE DISCUSS LIV WARFIELD, WEARING A SATIN FANTASY-BIRD CAFTAN AND OWNING IT LIKE THE GODDESS MOST HIGH THAT SHE IS? What part of this photo doesn't scream "YAS BISH YAS"?! Where is Jarvis Derrell when you need him? I'm trying to envision what he'd say about this look on She Has Had It—he would have invoked the Lordt, no doubt. #Bless
Wait, one more:
SLAY QUEEN
Images via Splash News.