Daul Kim, Lucy Gordon, Tom Nicon, Hayley Kohle, Ruslana Korshunova, and Ambrose Olson are just a few of the models who have recently committed suicide. Now Abbey Lee Kershaw <a href="">has killed herself in a video for a clothing company.
A South Korean brand called Lewitt recently launched its latest campaign with a video of Kershaw, a prominent Australian model, shot by the art photographer Ryan McGinley, who often moonlights in fashion.
In the three-minute clip, which is potentially disturbing though technically SFW, Kershaw is filmed running through streets and alleyways, looking nervous and despondent in a variety of different outfits to the accompaniment of a jangly soundtrack. She's framed through the bars of fire escapes and fences — it's as if even the architecture wants to enclose her. Then she enters a darkened building, curls up in the fetal position, runs some more, and climbs onto the roof. She rushes to the edge. There's a close-up of her feet on the ledge. Then she jumps. Her fall is depicted in slow-motion, but the video fades to black before Kershaw's body lands.
McGinley appears to have had the video taken down from YouTube, but it remains up on the site YouKu.
It's not the first time McGinley has flirted with suicidal themes. The fall, 2008, issue of POP magazine saw the publication of an 11-page spread of model Agyness Deyn falling from a Manhattan fire escape. In June of that year, 20-year-old Kazakh model Ruslana Korshunova ended her life by jumping from the balcony of her New York apartment. Canadian Hayley Kohle and Colombian Lina Marulanda have also jumped to their deaths.
Asked about the video, Kershaw said it was "based around the story of Alice in Wonderland." She then protested that she had not seen the video, but that it had been edited, and ended the interview. "I'm done here. I'm done. Thank you."
G/O Media may get a commission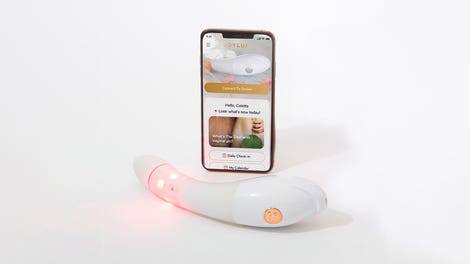 $50 Off
Joylux vFit Gold Device
South Korea has the highest suicide rate in the developed world. Thirty-five people in the nation of 50 million end their lives each day, on average. Last October in Paris, South Korea's biggest international modeling star, Daul Kim, was found hanged in her boyfriend's Paris apartment; her death was ruled a suicide. Kim's death, like that of Alexander McQueen this spring, rocked the fashion world.
Even if Ryan McGinley weren't aware of the huge problem that suicide is in South Korea, Lewitt's executives must — it's a South Korean company. And McGinley, like Kershaw, must have known of the recent spate of model suicides. In that context, it's shocking and disturbing that anyone in fashion would see suicide as nothing more than material for an ad campaign.
In Prosperous South Korea, A Troubling Increase In Suicide Rate [WaPo]
Ryan McGinley's "Suicide" Video Was Inspired By Alice In Wonderland [Frockwriter]
Abbey Lee Commits Suicide For Ryan McGinley [Pedestrian.tv]
<a href="">Agyness Deyn Free-Falls For POP [Fashionologie]