A group of former sex workers in South Korea have accused the South Korean government and the United States military of encouraging the sex trade near military bases from the 1960s through the 1980s.
The New York Times reports that while most of the women were not forced into prostitution, a group of sex-workers-turned-activists claim that the South Korean government was "one big pimp for the U.S. military." They claim that the government "trained" prostitutes, giving them lesions in English language and etiquette, with the intention of using the sex trade to bring in much-needed foreign currency.
According to scholars, the U.S. military worked with the South Korean government to regulate the health of the sex workers. However, they did not do so for the health of the women, but rather to ensure that American soldiers would not contract any STDs while visiting the conveniently-located camp towns. Some women claim that the American military police raided brothels, looking for women they suspected to be spreading disease. The Korean police would then step in, locking the accused women up in so-called "monkey houses" until they were deemed well enough to go back to work.
Transcripts of parliamentary hearings support the former sex worker's claims that the government explicitly encouraged the selling of sex in order to keep U.S. dollars flowing into South Korea. In one exchange from 1960, two lawmakers recommended that the government keep a number of prostitutes to meet the "natural needs" of U.S. soldiers. Lee Sung-woo, the deputy home minister, assured the speaker that the government had already made improvements in the "supply of prostitutes," which he termed the "recreational system" for American troops.
The camp towns still exist today, and many former sex workers still live in the brothel-dominated settlements. Jeon, a 71-year-old ex-prostitute who moved to the camp town of Dongduchon at age 18, said: "The more I think about my life, the more I think women like me were the biggest sacrifice for my country's alliance with the Americans. Looking back, I think my body was not mine, but the government's and the U.S. military's."
G/O Media may get a commission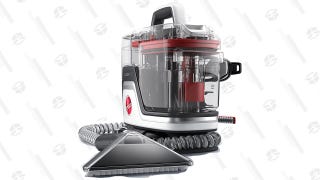 Save $10
Hoover CleanSlate Plus Carpet & Upholstery Cleaner
Ex-Prostitutes Say South Korea And U.S. Enabled Sex Trade Near Bases [New York Times]