Swagbucks.com and Instagc.com are sites where users can, in exchange for a few cents, complete small tasks such as filling out forms or surveys and—as of yesterday—begging the Senate to confirm Betsy DeVos, Donald Trump's education secretary nominee. Someone is paying these sites to pay people to go to SupportDeVos.com, a website run by the formerly DeVos-led American Federation for Children, to express their support for her nomination.
The campaign was first spotted by a user over at Daily Kos, who found the offer on Swagbucks. Several Reddit users claimed to have discovered the same thing on Swagbucks and similar sites yesterday.

Users who clicked on the offer were redirected to a website urging them to tell government officials to confirm DeVos's nomination:

G/O Media may get a commission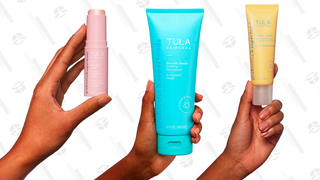 Once at SupportDeVos.com, all you have to do is enter your name and address, hit submit, and sit back while the quarters roll in. In the meantime, some "official" (presumably in the Senate) receives this:
Dear Official,
I am writing to ask and encourage you to confirm Betsy DeVos as our next Secretary of Education. Betsy DeVos is one of the most accomplished and dedicated advocates for children and education reform in America. Mrs. DeVos has nearly three decades of experience successfully improving our nation's education system and ensuring all children have access to a quality school, especially the most disadvantaged children in our country.

Betsy DeVos believes the best education decisions are made at the state and local level and she will fight relentlessly on behalf of all families. Mrs. DeVos is an experienced, proven and dedicated leader who will empower parents, protect students and support teachers.
You can change the letter to say whatever you like—and some people have done exactly that as a protest against her nomination—but if you're filling out forms for pennies online, you're probably more concerned with how many forms you've filled out than what they say.
You're also probably not overly concerned with who is paying the indexing sites to get you to fill out their forms or surveys. But once you're at SupportDeVos.com, you might notice that the website is funded by the aforementioned American Federation for Children, a 501(c)4 "social welfare organization" and one of the standard bearers of the school privatization movement. DeVos was the organization's chair until November 30, 2016, when she was succeeded by Bob Oberndorf, an old friend of hers who founded the AFC-affiliated 501(c)3, Alliance for School Choice. Oberndorf contributed half a million dollars to All Children Matter, the super PAC DeVos co-founded to astroturf for pro-school voucher candidates.
The DeVos family has spent the last 20 years refining the art of political spending, not at all unlike the Kochs and the Mercers. "I have decided," DeVos wrote in Roll Call in 1999, "to stop taking offense at the suggestion that we are buying influence. Now I simply concede the point. They are right. We do expect some things in return." Since 1989, the DeVos family has given at least $20.2 million at the federal level alone to Republican candidates, party committees, PACs, and super PACs. According to the Michigan Campaign Finance Network, the family's spending increased significantly in the past two years—at least $14 million in political contributions since 2015.
After the 2008 election, some of the super PAC's staffers went to work for American Federation for Children. "Now that our efforts are better organized, it's been working really, really well," DeVos continued. All Children Matter still owes the state of Ohio $5.3 million in fines for violating campaign finance regulations.

For the most part, the American Federation for Children kept a low national profile under the Obama administration. After spending $120,000 on Washington lobbyists in 2007, AFC spent went quiet for seven years. The group was heavily involved in state politics, however: A 2012 election impact report distributed to potential donors boasted that AFC had spent almost $2.4 million in state legislative races in Wisconsin, for example—far more, as it happens, than the $345,000 it had disclosed to regulators.
Although it's not out of character for AFC to spend money to buy influence, this kind of campaign—paying a third-party to get other people to fill out online forms for pennies—is unusual. "I've never seen this sort of thing before," Adam Smith, communications director at Every Voice, a nonprofit tracking money in politics, told Jezebel. "With normal astroturfing you see promoted posts on Facebook, on Twitter," he said, but this is "fairly unique." It's also indicative of the weakness of her support: "The only people that support her are people that she gives money or the people that work for her."
Calls to AFC were returned by Dean Petrone, CEO of GoBigMedia, who described himself as "a media vendor to the campaign." Petrone said "with absolute certainty" that "these ads are not the property of AFC." Two other media strategists working on DeVos's behalf—DCI Group and America Rising Squared—did not immediately respond to a request for comment. "Obviously, there's a lot of shenanigans going on, so it would be important for you to verify this with these sites," Greg McNelly, a longtime DeVos aide, told Jezebel. Swagbucks.com declined to comment.

Curiously, as soon as the offer started gaining steam around Reddit, all the offers to Support DeVos on the various affiliate-indexing sites seemingly disappeared. The original poster of the screenshot told Jezebel that he had last accessed the offer around 11 p.m. last night, but that it's now "been taken down from all the websites I'm aware that had it."

You can, however, still see the remnants of what got picked up by what appears to be an affiliate offer search engine.
There is no way to definitively know who paid for the ads, so there's always the possibility that some random, anonymous citizen just loves Betsy DeVos so much that they felt compelled to spend their own money to pay other people to campaign for her support. (The American Federation for Children declined to comment on whether or not they were the organization behind the offer.)

"Mrs. DeVos is no longer affiliated with American Federation for Children, nor does she have to pay anyone to support her," McNelly, the DeVos aide, went on, "In fact, she has received more letters of support to the Senate HELP committee than all U.S. Secretaries of Education combined."

The DeVos family has given six senators sitting on the HELP committee $256,400, filings show. Betsy DeVos herself has given five HELP Committee senators $31,400.

The Senate is expected to vote on Betsy DeVos's confirmation this coming Monday. If you have any information about Betsy DeVos or anything else, you can let us know here or here.
This story was produced by Gizmodo Media Group's Special Projects Desk.