Very good crime news today, as police in Sweden report that two men strolled into a medieval cathedral, grabbed a couple of crowns, and escaped via speedboat. Perhaps the guys from Venice have struck again?
The Associated Press reported on this incredible heist:
Thieves carrying out a daring robbery in broad daylight walked into a medieval cathedral in Sweden, smashed open a glass security case and stole priceless gold and jewel-encrusted crowns dating to the early 1600s before hopping onto bicycles and racing to a nearby lake, where they disappeared.
"The two men hurriedly jumped on board and it sped off," said one witness. However, a police spokesman said that, "witnesses' testimonies varied quite a bit" and it may in fact have been JET SKIS. Every detail is better than the last!
Their haul was significant, including "a gold crown and an orb dating to 1611 that were made for King Karl IX's funeral, as well as a jewel-encrusted crown dating to 1625 that was used in Queen Kristina's funeral," which were originally buried but have since been exhumed and were on exhibit. "I have talked to someone at the county administrative board that says it is not possible to put an economic value on them - these are invaluable objects of national interest," police spokesman Thomas Agnevik told the media, according to Sky News.
G/O Media may get a commission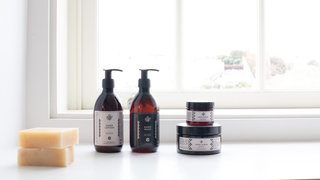 Exfoliate and Hydrate
The Handmade Soap Company
"It's 1-0 to them right now," he said. Not for long, perhaps, because it's notoriously hard to unload something so distinctive and valuable without getting busted.
The good news is that these were just some throwaway burial crowns—they were in fact interred and only later exhumed and put on display—and Sweden's royal family still has plenty of crown jewels. WHEW!