One of the myriad downsides of electing a president with no government or military experience is the fact that he only has two months to learn how the government and military work.
Ana Gasteyer Satirizes the Girl Boss in 'American Auto'
Trump, who met with President Obama on Thursday for a crash course in governing the country, seemed "surprised" by the scope of the presidents' duties, the Wall Street Journal reports.
The Thursday meeting also clued Trump in to some of the most obvious, mundane responsibilities of being president.

For example, Trump had no idea he would have to hire a new White House staff once Obama's term ends, and "appeared nervous and uncharacteristically subdued" after the meeting ended.
G/O Media may get a commission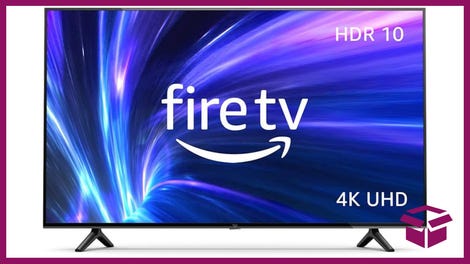 42% Off
Amazon Fire TV 50" 4K Smart TV
Still, Trump started receiving a modified version of the classified presidential briefings Friday.
Aides told the New York Times that the two men also "discussed foreign and domestic policy issues that Mr. Trump would need to deal with on Day 1 in the Oval Office," a report that includes this chilling anecdote:
In December, Mr. Obama's team plans to hold the first of two war-gaming exercises to prepare Mr. Trump and his staff for a potential national security crisis. The second simulation for Mr. Trump is set for January, days before he officially gains access to the nuclear codes.
That gives Trump about a month to hire staffers, thousands of whom have to be confirmed by the Senate, which he reportedly refused to plan for before Tuesday because he didn't want to "jinx" the election.
After the meeting, Trump even indicated he would start taking Obama's advice, saying, "I very much look forward to dealing with the president in the future, including counsel"—a major turnaround for a man who once called Obama "the most ignorant president in history."
Obama reportedly plans to spend more time "than presidents typically do" tutoring Trump before the big inauguration. Anything could happen!