On Tuesday morning, a Twitter account for the Scaramucci Post (@ScaramucciPost), Anthony Scaramucci's... something... published a now-deleted Twitter poll that politely asked: "How many Jews were killed in the Holocaust?"

Then, in quick succession:
G/O Media may get a commission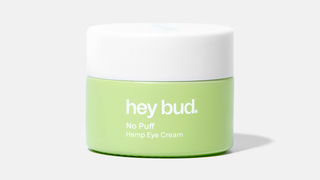 15% off
Hey Bud - No Puff Hemp Eye Cream
Okay. What?
Here are some questions I immediately asked myself, followed by the answers I feel are correct.
Q: Should we be offended by this Holocaust tweet?
A: Definitely!
Q: What is the Scaramucci Post?
A: No one really knows, including its founder, former White House press secretary Anthony "The Mooch" Scaramucci, who had that job for 11 incredible days and remains semi-famous for being, like, a chatty jabroni and an allegedly terrible father. But that did not stop "it" from being "launched" at a Monday night event on October 2, where Mooch explained in an interview with The Hill:
"We have no idea what the Scaramucci Post is and neither do you. But, we launched it today and we launched with great fanfare and so we'll have to see how the whole thing unfolds."
He elaborated: "It's going to be plain vanilla news that is unfiltered, cold brew news, if you want to say." And: "actions always speak louder than words, so watch it unfold."
Anyway, as far as I can tell, it's a Twitter account and an Instagram account run by a former hedge fund guy named Lance.
Q: Who is Lance?

A: Lance is Lance Laifer, a 51-year-old ex-hedge fund manager from Long Island who was Taye Diggs's "social media maestro" and is now apparently doing the same thing for Anthony Scaramucci, which is why both of them follow hundreds of thousands of people on Twitter.
"I've always kind of thought of social media as a two-way device," Laifer told GQ.
He also told GQ: "I only wear golf pants because I carry five phones with me."
Q: Does Anthony Scaramucci follow Ellie Shechet on Twitter?
A: No.
Q: Does he follow all of her coworkers?
A: It seems like he does, yes.
Q: Do follows = job offers?
A: No.
Q: What kinds of other stuff does the Scaramucci Post tweet about?

A: They do a thing called #SPThoughts where they retweet something and say, "Thoughts? #SPThoughts." There is no guiding theme that I can discern, although the Holocaust seems to be coming up a lot today:
But sometimes they skip #SPThoughts and just do emojis:
And as we've established, they also do polls:
Q: What team is the Scaramucci Post on?

A:
Q: How is their Instagram?
Q: Does Taye Diggs still follow Ellie Shechet on Twitter, at least?
A: Yes.
Q: Is Lance Laifer a Holocaust denier or a troll or very dumb? Is he all three of those things?  
A: I have no idea.
Q: Was Anthony Scaramucci upset about the Holocaust poll? 
A:
Q: Is anyone getting fired?
A:
Q: Does more than one person work for the Scaramucci Post?
A: It seems really unlikely.
Q: Has society just fully broken down?
A: Almost, maybe?
Q: Is this the worst Twitter account?
A: No, not quite.
Q: What's up next for Anthony Scaramucci?
A: