Though New York legalized same-sex marriage in June, that still doesn't mean gay couples are being treated equally by state employees. Several town clerks have objected to signing marriage licenses for gay couples, and now one case has become a test for whether the state will make exceptions for those who object to gay marraige on religious grounds.
The New York Times reports that in Ledyard, a rural upstate town, a lesbian couple is considering filing a lawsuit against 57-year-old Rose Marie Belforti for refusing to sign their marriage certificate. Belforti has been town clerk for a decade, but after same-sex marriage was legalized, she decided to stop performing one of her duties. In an effort to honor state law and her personal beliefs, she arranged for her deputy to issue all marriage licenses.
Belforti says she can't sign them herself because the state protects her religious freedom and she doesn't believe in sanctioning homosexual relationships. She explains:
"For me to participate in the same-sex marriage application process I don't feel is right ... God doesn't want me to do this, so I can't do what God doesn't want me to do, just like I can't steal, or any of the other things that God doesn't want me to do."
When Deirdre DiBiaggio and Katie Carmichael attempted to get a marriage license recently, Belforti told them they'd have to wait until her deputy was in. The clerk's offic is only open nine hours a week, so resechuedling is a inconvenience. They admit this isn't a life of death situation (like when pharmacists refuse to hand out the morning after pill), but the couple says they shouldn't have to wait because they're gay. "Gay people have fought so long and hard to get these civil rights," said Carmichael. "To have her basically telling us to get in the back of the line is just not acceptable."
Though the couple hasn't actually filed a lawsuit, each side has lawyered up and many are wating to see how the state will deal with the issue. Two clerks have resigned due to the new law, and Belforti will be challenged in an election this fall. The state has no signs of making concessions for people who object to gay marraige on religious grounds. The State Health Department has warned clerks that they could be charged with a misdemeanor for refusing to sign marriage licenses, and Governor Andrew Cuomo has said, "When you enforce the laws of the state, you don't get to pick and choose."
G/O Media may get a commission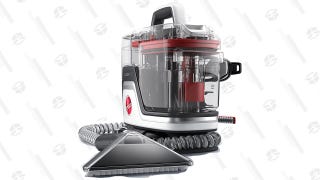 Save $10
Hoover CleanSlate Plus Carpet & Upholstery Cleaner
Rights Collide As Town Clerk Sidesteps Role in Gay Marriages [NYT]
Image via Amy Walters/Shutterstock.