The news that O.G. socialite-turned-HSN costume jewelry designer Iris Apfel's creations are less than original should — to anyone who pays attention to the celebrity clothing line industrial complex — be less than surprising. The story here is that Apfel, whose taste in jewelry is deservedly famous, was approached to do a line for HSN. Apfel apparently did what most celebrity "designers" do: she turned over some of her own favorite pieces to be knocked off. And when it comes celebrity designers, this is far from the first time that's happened.
No sooner had the first images of Apfel's HSN line hit the Internet than the jewelry designer Hanna Bernhard identified one of Apfel's pieces, a jeweled toucan brooch, as a knock-off of her own work.
And yes, Apfel does own the Bernhard original in question. Here she is photographed wearing it. Oops! On the top right is Apfel's pin for HSN; on the bottom right is Bernhard's.
G/O Media may get a commission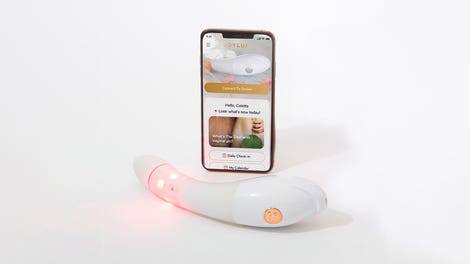 $50 Off
Joylux vFit Gold Device
When Jessica Simpson launched her prom dress collection this past February, for example, she had her people knock off a Carolina Herrera gown she wore to a gala event in January of 2010. Simpson is a repeat offender: her shoe license knocked off Sergio Rossi in 2009.

Kate Moss's Topshop line — at least prior to its cancellation — was a seasonal game of designer hide-and-seek. Moss didn't even seem to mind when she was photographed wearing the originals rather than the knock-offs.
When Lindsay Lohan caused a stink in early 2010, when one of the sketches she released for her forthcoming 6126 dress collection showed a truly remarkable similarity to an older dress by the designer Jen Kao — which Lohan herself owned. As best as I can tell, the 6126 knock-off never went into production.
Not so Rachel Bilson's little-remembered designer turn for DKNY jeans. The actress's capsule collection for the brand included a yellow dress that looked almost exactly like a green dress by the Bangkok label Stretsis. Stretsis being little-known in the West, very few people would probably have been the wiser had Bilson not worn the original to an event.
The day that stylist Rachel Zoe first showed the fashion line she now designs to the press, an editor at Teen Vogue Tweeted a picture of a Zoe minidress with an abstract black-and-white print alongside a page from Teen Vogue's October, 2007, issue. In the old magazine story, a stylist by the name of Rachel Zoe gave an intern a makeover — and dressed her in a vintage minidress with an abstract black-and-white print. Is knocking off a vintage dress a victimless crime? Perhaps — and no clothing design in the U.S. is currently protected by copyright, anyway — but the sheer cheek of it is kind of amazing.
Victoria Beckham's line of $2,000 and $3,000 dresses has now won over fashion editors and celebrity clients — well, kind of — but when the Posh one launched it, in 2008, it was a different story. "Insiders" leaked stories to the tabloids about how Beckham was relying extensively on the aesthetic and construction expertise of her friend, the designer Roland Mouret, to create her line. Beckham acknowledged using the same seamstresses, pattern cutters and fabric makers as Mouret. Beckham even had the gall to knock off one of the most knocked-off dresses of all time — Mouret's "Galaxy" dress, which she had worn, in black, to an event in 2005. Beckham's version is on the right.
Other details from Beckham's dress line seemed very close to Mouret's — like this distinctive silver two-way zipper. At left is Madonna, who wore the Victoria Beckham dress with that unusual closure in a W editorial (the same one where she met Jesus Luz). At right is Beckham, wearing a yellow Roland Mouret dress with the same zip.
Then there was the time Erin Wasson knocked off jewelry designer Bliss Lau — Wasson allegedly borrowed and cast Lau pieces for her own jewelry line, Low Luv, but slipped up and wore the originals in a Nylon editorial. This isn't uncommon — you'd have to be almost touchingly credulous to believe that celebrities who lack design experience and qualifications are responsible for any of the clothing and accessories that bear their brand names — but it is kind of funny. Do they really think nobody will notice?