In what I think we can all agree was a singularly wise move, Solange has deleted her Twitter account, but not before she left one last ball of fire:

Thompson was arrested yesterday on charges that included two felonies for her role in helping to topple the Confederate statue outside the former county courthouse in Durham, North Carolina on Monday. She has since been released on bail, but the charges have not been dropped, and she could face 25 months and 41 months in prison for each.
Like many celebrities, Solange had been diligent about using her platform to speak out against the abhorrent events in Charlottesville over the weekend, as well as Trump's approval of them. After her Twitter went dark, Solange resurfaced on social media in the form of an Instagram note:
G/O Media may get a commission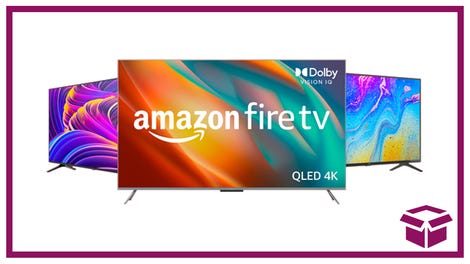 Ooh. stunning.
New Amazon Fire TVs
I can't fucking wait for this album.
---
I don't know if Ariana Grande is some sort of witch or what, but her impressions of other artists are truly a thing of beauty. I'm not saying a precise impersonation of the Spice Girls approaches the difficulty of nailing Celine Dion doing "Can't Feel My Face," but still. Not even going to question why she's doing this in a bathroom in South Korea.

Some quadrants of Twitter lit up with hope that Grande was teasing a new album, which is quietly horrifying.
The mania was enough that Grande had to set the record straight, clarifying that no, it's not A4 (album four) tea:
Ariana...yes.
[Cosmo]
---
Tom Cruise broke his ankle while attempting a stunt during the filming of MI:16, halting production for the time being. Paramount has said the film will still be released in July as planned, so I guess the Eighth Dynamic understands the studio has a schedule to keep. [TMZ]

Helen Hunt and Matthew Carnahan split after 16 years together. [People]
Jeffree Star has his priorities straight. [Us]
As if to scream "KATY PERRY AND I ARE NOT BACK TOGETHER," Orlando Bloom immediately surfaced at the beach with another woman. [Us]
Casey Affleck is going to get fired from the Affleck family. [Mashable]