So you want to dress like you're in Game of Thrones. Here's what you do. Ditch your jeans and T-shirts. Look for gauzy, goddess-like gowns, heavy capes, and anything with claws or fur. When you get dressed, you either win or die.
Let's just say Joffrey's called you into the Throne Room (aka you have to meet with your boss for a yearly review). Why not choose a dramatic blue wrap dress inspired by Sansa Stark?
Well Dressed Lady, $325
G/O Media may get a commission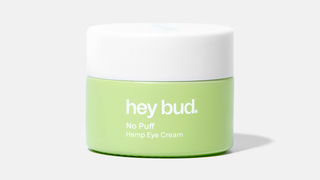 15% off
Hey Bud - No Puff Hemp Eye Cream
Sansa likes little roses, even when she just throws something on to go pick up a UPS package.
Romantic Threads, $185
A velvet cloak is perfect for sweeping through the alleys on your way to secret meetings in Kings Landing, although not recommended if you have to travel through Flea Bottom.
Pyramid Collection, $120
To close your cloak: An official Hand of The King pin.
(Some gentlemen may prefer a Hand of The King tie clip.)
HBO, $17
Headed beyond The Wall? Wear a faux-fur hood Ygritte would approve of.
Tamo Design, $58
Pledge your allegiance to Daenerys Stormborn by wrapping a wee dragon around your ear.
Pyramid Collection, $50
Oh this? Just a gift from one of my admirers at House Gargalen of Salt Shore...
Pyramid Collection, $120
Cersei Lannister looks devastating in deep red; as will you. Don't forget your wine goblet.
Well Dressed Lady, $150
Just like Cersei Lannister's.
Mustmerch, $20
Some high-fashion Cersei options: Jean-Paul Gaultier; Valentino; Valentino.
Gareth Pugh's Spring 2013 collection featured quite a few things citizens of Westeros might like.
Winter is coming. Get yourself a fur-trimmed cape.
Days Of Our Knights, $130
Actually, you need a wolf-fur collar to wear with everything, from T-shirts to pajamas.
Cocoon Furs, $248
Here's a gray gown just like the one Daenerys Targaryen wore to her wedding. Throbbing bloody horse heart not included.
Couture Corner Shop, $331
Sure, it's hot as hell, but there are lots of good parties happening in downtown Qarth. Be prepared.
Open shoulder maxi dress, $108
Diamond Maxi dress, $398
Made My Day maxi, $88
All from Free People
You're definitely going to need a crown. Baratheon-inspired, perhaps?
Both from Angelyques, $45-$395
(Prefer it in leather? No problem.)
More options for meeting up with Tyrion somewhere near The Street of Silk: lace and chiffon gown, $598; portrait collar pleated mesh gown, $298; embellished lace and silk chiffon gown, $488
Golden cuffs are a must.
ASOS, $25
Obviously any Mother of Dragons is lost without her claw necklace.
sbuderfly, $37
Don't forget to invest in your very own iron throne.
Princess & Dragon, $10,000
Finally: Perfect for intimidating enemies who sit in your seat during happy hour at your fave bar: A Dire Wolf mask/headdress.
The Green Wolf, $170
For more inspiration, visit:
A Game of Clothes
What Would Khaleesi Wear?
Game of Style
80 Daenerys Targaryen Costumes