Remember how the MPAA made Ryan Gosling so appealingly sad about the patriarchy? It's still inscrutable what exactly got got his and Michelle Williams' Blue Valentine that NC-17 rating, but finally, here are some clues.
Gosling and Williams wrote an open letter to the MPAA appealing the film's rating. Gosling argued that "the MPAA is okay supporting scenes that portray women in scenarios of sexual torture and violence for entertainment purposes, but they are trying to force us to look away from a scene that shows a woman in a sexual scenario, which is both complicit and complex. It's misogynistic in nature to try and control a woman's sexual presentation of self."
Okay, so what is that "sexual presentation of self"? And is it really more shocking than the crap that's on TV, let alone at the multiplex, all the time?
G/O Media may get a commission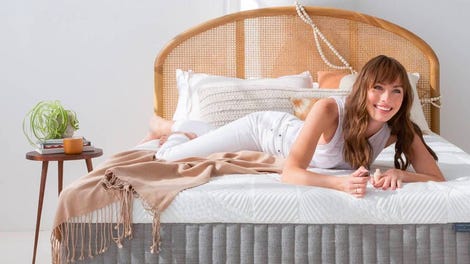 Sleep Sale
Sleep Sale - Brentwood Home
Over at Crushable, Kate Spencer saw the movie and says there isn't actually anything that explicit. She wonders whether the MPAA "simply has a grudge against depressing cinematic sex." Hot. She writes (sort of a spoiler),
The scene that earned the movie its notorious NC-17 rating is cringe-worthy in a "we've all had sex this miserable" sorta way. Yet nothing about it is explicit. Fueled by vodka and conflicting emotions, Dean [Gosling] and Cindy [Williams] go at it on the floor of their hotel room and end up arguing mid-thrust. Cindy gets a little violent, the whole thing turns into a fight and no one cums. It's as anti-climatic as drunk hate-sex is in real life.
There are three other sex scenes, two of which involve Dean going down on Cindy — once while in a good place, once while their relationship is unraveling. Which may actually be what actually earned the movie its rating. But no one has ever accused the MPAA of making sense.
The director said recently that he won't cut the movie to suit the MPAA and will release it as NC-17 unless they accept his appeal. "Sex is a dialogue between people. It becomes a bone of contention in 'Blue Valentine.'Their relationship is described through sex," Derek Cianfrance said.
Exactly How NC 17 Are Blue Valentine's Sex Scenes [Crushable]
Director Derek Cianfrance; We'll Release Blue Valentine With NC-17 [Wrap]
Earlier: Ryan Gosling Questions "Patriarchy-Dominant Society"