Tammy Chapman was a Penthouse Pet back in the early nineties; a few years later, while working as a stripper, she says she had this one asshole client who was obsessed with her and was constantly shoving her head in his crotch. Funny thing is, now he's about to run for governor of Missouri as a Tea Partying family values Republican.
Peter Kinder is currently lieutenant governor under a Democrat; he's the only Republican to challenge so far. When the Riverfront Times published a recent photo of Chapman and Kinder in a "pantsless bar," his spokesman had the following unconvincing response: "I really highly doubt the lieutenant governor is going to a bar where they don't wear pants on a night when they don't wear pants. I saw the picture. I don't know if it's an old picture. I just can't imagine he'd be drinking there." (For the record, it's the staff that's pantsless.)
Peter Kinder cannot be the only male elected official, Republican or otherwise, who has visited a strip club, so the ensuing uproar among Republicans is a matter of extreme hypocrisy. But however you feel about men in public life and sex work, it's undeniable that by Chapman's account, Kinder is a creepy jerk.
She would never have been a candidate for his advances, being a lesbian, but regardless of her orientation, Kinder clearly was one of those guys who doesn't understand that the women taking their clothes off in front of him are working and who generally feels entitled to do whatever he wants. Sixteen years ago, he visited the club where Chapman worked at least ten times and spent around $200 per visit, but she says she cut off contact because "he became very aggressive with me. I couldn't tolerate what he was making me do.... He'd pull me down to his groin — really, really hard, to the point that it hurt me." He also apparently wrote her "alarming" letters. She told him not to come in anymore.
Then, this year, Chapman says their paths crossed again, at which point she says the lieutenant governor invited her to move in with him at a condo paid for by his political action committee. Her response garnered this awesome tidbit:
As a young stripper, she'd chosen not to tell men the truth about her personal life, knowing that if they learned she was gay, it would interfere with her tips. But today she's out and proud of who she is.

So when Kinder made his proposition, she says, she didn't just turn him down — she shot him down. "I said, 'Oh, honey, I don't think my girlfriend would like that!'" He was out of the bar in less than an hour; she hasn't heard from him since.
G/O Media may get a commission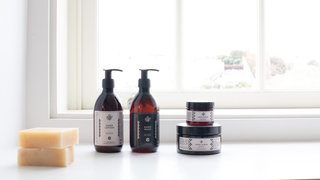 Exfoliate and Hydrate
The Handmade Soap Company
Kinder denied this account of the recent encounter. He did say of his past club visits, "I'm a Christian. I'm a sinner. I'm a sinning Christian." Speaking of his alleged obsession with Chapman,
-"'My what lovely scenery, cupid's own machinery,'" Kinder said, quoting [Dean Martin] lyrics. "That is an innocent expression of romantic love — romantic attraction, I should say - that sort of captures the beginning of this. And then you realize that you are pursuing that in a strip club."
Yeah, that totally sounds not at all creepy.
Meanwhile, his fellow Republicans are calling upon a potent mix of moralism and feminist rhetoric. One Republican representative, Kevin Elmer, wrote in an op-ed of Kinder's excuse that he was just 40 and this was years ago,
I am a 40-year-old state representative, and I can tell you sitting in a dark club sipping wine while watching women take off their clothes for money is impermissible behavior for someone elected to be a leader in the community.

At my age, I have some understanding of what moral shortcomings it takes for the adult entertainment business to exist. One of the main components is a man willing to objectify women in a manner that is degrading and demeaning. In this setting the debate over whether or not physical aggression has occurred is misplaced, because I submit to you that it already has been perpetrated mentally. If I enter a strip club once or 10 times, I go in knowing that I am willing to submit to thoughts and fantasies of unhealthy relationships.
We can at least all agree that if he really did engage in stalkerish behavior towards a woman, sex worker or otherwise, he shouldn't be governor. But we have a feeling that Elmer is less upset by Kinder's other anti-woman positions, including the ones that got him awards from Right to Life groups.
Penthouse Pet Dishes On Peter Kinder: "He Was One of My Best Customers" [Riverfront Times]
Peter Kinder Explains Romantic Attachment At A Strip Club [SL Post Dispatch]
Peter Kinder: Every Night's A Pantsless Party? [Riverfront Times]
Kinder Is Not Worthy Of Candidacy For Governor [Jopling Globe]