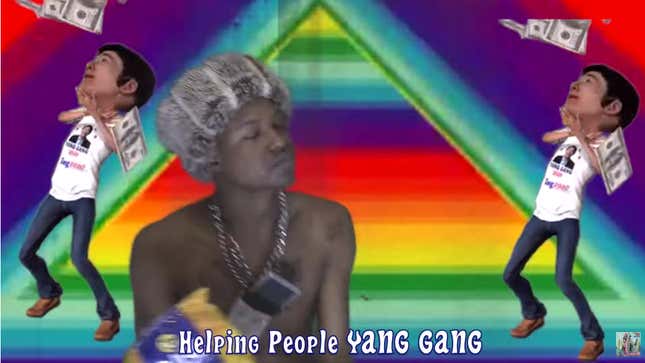 Andrew Yang, the meme king of the 2020 election cycle, has amassed a fan base of universal basic income evangelists, college kids, 4chan assholes, and maybe like four Democrats. But a new video by a rapper named Paperboy Prince of the Suburbs has taken Yang's reputation as Gen Z internet fodder to the next level.

Paperboy Prince, someone who I had never heard of until 30 minutes ago, released a song called "Yang Gang Anthem." The song starts off with "Yang, what up" so you know it's good.
Here are some of the lyrics:
Thousand dollars, Yang Gang
Healthcare, Yang Gang

Helping people, Yang Gang

Eating pizza, Yang Gang

[...]

Businessman, Yang Gang

This for all the teachers, Yang Gang

Robots, Yang Gang

Freedom Dividend, Yang Gang
Yang's Freedom Dividend proposal would allot $1,000 each month to every American adult. Paperboy Prince of the Suburbs appears to be a fan. He even made a dance to solidify his support for Yang:

Election day is 551 days away, folks!