Mississippi State Senator Chris McDaniel was upset and deeply grossed out by the Women's March on Washington D.C., which, unacceptably, featured women with "piercings, tattoos [and] body paintings" talking about birth control. Nauseating. But the Senator wasn't alone: a great many male elected officials had similar, very special, very original responses to women's marchers. Many of them were phrased in the form of jokes, and help to illustrate why politicians shouldn't try their hands at comedy. Let's just get all of these over with at once, shall we?
Ana Gasteyer Satirizes the Girl Boss in 'American Auto'
Judge Bailey Moseley, who serves on Texas' 6th Court of Appeals in Texarkana, called the women's marchers "a million fat women" in a now-deleted Facebook post.
J.R. Doporto, a City Council member in Carlsbad, New Mexico, had a joke about how women are gonna get beaten, because men are emotionally fragile when they're watching football:
G/O Media may get a commission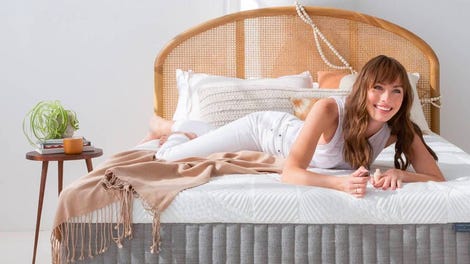 Sleep Sale
Sleep Sale - Brentwood Home
J.R., it's worth noting, is not sorry and is in fact delighted about getting interviewed by a local TV station:
He also shared the same meme about "fat women walking" that apparently inspired Judge Moseley's joke. Again, originality is key to being a funny man with good jokes about bitches.
Nebraska State Senator Bill Kintner retweeted a post indicating that women's marchers were too ugly to get their pussies grabbed. This past summer, Kintner was involved in an embarrassing scandal in which he masturbated with a lady on a webcam using a state-issued computer. The lady then attempted to extort him. Kintner resisted many calls to resign, and survived to share jokes about who's attractive enough to get her pussy forcibly grabbed.
What a great country this is, with many second chances for all the right people.
John Carman, a freeholder in Atlantic County, New Jersey, shared a meme hoping that women marchers would be home in time to cook, and another about women going to DC to make sandwiches together.
Freeholders are part-time elected officials who serve at a county level, and this one is apparently so goddamn useless he can't feed himself.
State Senator Joyce Krawiec of North Carolina emerged to provide a terrible woman's necessary perspective, which was that women's marchers are stupid and bad.
After drawing a great deal of anger, Krawiec deleted the tweet, apologized, blamed her newness on Twitter. (Krawiec has had an account since 2009 and has tweeted more than 6,600 times.) She also clarified she was only talking about the foul-mouthed sluts.
Dathan Paterno, a school board member in the Chicago suburb of Park Ridge, called the marchers "vagina screechers," as the Chicago Tribune reports, part of a string of good tweets about women:
The tweet read: "Most of these vagina screechers didn't vote, but they mean business. Riiiiiiiight. What a farce." The remark followed a few other provocative posts last week about the march, including one that referred to it as a "Procession of Palpable Penis Envy" and another that said: "Alas, the 300 million pound Women March provides a strong argument for doing away with women's suffrage."
Paterno is also the founder and director of Park Ridge Psychological Services, and is a licensed psychologist working with children and families. (He does not believe in "psychotropic medications," according to his bio, which is an interesting side note but probably not the main reason you might choose a different therapist.) He's since deleted his Twitter, just a few dozen terrible tweets too late.
Sean Todd, the Town Council Vice President of East Greenwich, Rhode Island, was pretty sure the march was invented by men "as a way to get wives out of the house." He's sorry, and that's nice, though hundreds still protested him at a Town Council meeting Monday night.
More importantly: who are all these wives trapped in the house that Todd evidently knows about and is not trying to rescue? Why are they trapped in there? Has there been a landslide? A security alarm malfunction? Who will rescue the wives?
A thunderous congratulations to every elected official here who came out, tried, failed, and will, in all likelihood, live another day to tweet poorly and share shitty memes.