Bryan Cranston is a very funny man, and clearly a talented actor, but his appearance on SNL last night was upstaged by newbie Vanessa Bayer, who debuted her spot-on Miley Cyrus impression, and by Kanye West's intense musical performances.
The show began with a confirmation that despite the hiring of newcomer Jay Pharoah, who does a solid Obama impression, Fred Armisen will continue to play the President. Thankfully, his appearance was brief, and paved the way for Andy Samberg's always-funny Rahm Emanuel impression, which, in some weird way, was made a little funnier by the fact that Samberg clearly did not care if you noticed that he was blatantly reading the cue cards the entire time.
The highlight of the night was a Miley Cyrus impression by newcomer Vanessa Bayer (who was aided by a Johnny Depp impression from fellow newcomer Paul Brittain, as well as Bryan Cranston playing Cyrus' father, Billy Ray). It's exciting to see Bayer getting so much screen time, and as spot-on as her impression is, you can understand why:
Click to view


Cranston was pretty much wasted in a serious of bizarre skits that centered around the oh-so-hilarious topics of violence (a skit in which Cranston, a former green beret, repeatedly punches his son, played by the great Nasim Pedrad, in the face, in order to help him toughen up a bit), molestation (a skit based around a creepy old clip from a Canadian game show wherein the host continually asks his child guests for kisses), and, of course, the requisite farting jokes that SNL writers can't seem to get enough of (Kristen Wiig's Shanna character, who seems to go on forever and ever.)
With the nods to somewhat obscure internet clips (perhaps the game show bit is funnier if you know the source material?) and a heavy reliance on "shocking" material and 7th grade bathroom humor, watching an episode of SNL, at this point, is a bit like watching a live action Family Guy. Ha ha! That kid got punched in the face! Ha ha! That pretty girl is farting and burping! Ha ha, those two singer guys are just repeating things over and over again! And so on and so forth. It's irritating mostly because the cast, and the hosts, are typically very, very good. It's the material that lets them down.
Also in the show: Kenan Thompson's "What Up With That" skit returned, with guest appearances by Morgan Freeman and Ernest Borgnine:
Click to view


Bobby Moynihan's "Second-Hand News" correspondent, Anthony Crispino, was a highlight of Weekend Update (though Andy Samberg's Cathy also made an appearance):
Click to view


And Kanye's super-intense musical performances, which transformed the SNL stage to the point where it was unrecognizable:






All in all, not the greatest episode, though Kanye's performances were certainly memorable, and, between this week and last week, it's promising to see the new cast members all starting off so strong (and to see more of Nasim Pedrad, who is always great). Hopefully as the season progresses, the emphasis on fart jokes and shock value will fall back in favor of skits like "The Miley Cyrus Show," which let the cast members do what they do best: be really, really funny.
G/O Media may get a commission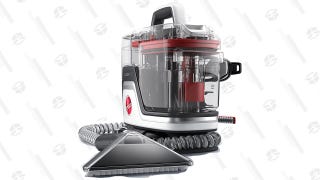 Save $10
Hoover CleanSlate Plus Carpet & Upholstery Cleaner
Next week: Jane Lynch and Bruno Mars. Want to watch the show for yourself? NBC has it up right here.