Guillermo del Toro has been accused of cribbing his Oscar-nominated film The Shape of Water from the late playwright Paul Zindel, who wrote a story called Let Me Hear You Whisper about a cleaning lady who falls in love with a sea creature held in a government laboratory. But, c'mon, it's such a common story!
The Guardian reports that David Zindel, Paul Zindel's son and overseer of his estate, believes his father's work was definitely used as inspiration for del Toro's film. Zindel's work is well-known; he authored the Pulitzer-winning play The Effect of Gamma Rays on Man-in-the-Moon Marigolds, and Let Me Hear you Whisper was performed on television.
In an email to the Guardian, David Zindel wrote, "We are shocked that a major studio could make a film so obviously derived from my late father's work without anyone recognizing it and coming to us for the rights."
Here are the similarities between the two pieces:
Both feature women janitors who work in a government facility

Both women use food to gain the trust of the creature being held there

Both women dance with a mop to love songs for the amusement of the creature

Both women overhear there is an imminent "vivisection" in store for their sea lovers

Both sneak the creatures out in laundry carts

Both have a friend at the facility who help them out with their plan

Here is where they're different:
In Let Me Hear You Whisper, the creature is a dolphin not a sexy, sexy fish man

In The Shape of Water, the female protagonist is mute—though muteness is mentioned in LMHYW, in reference to the dolphin's inability to speak

There is less magic drama at the end of LMHYW—it is a play with limited special effects, after all

G/O Media may get a commission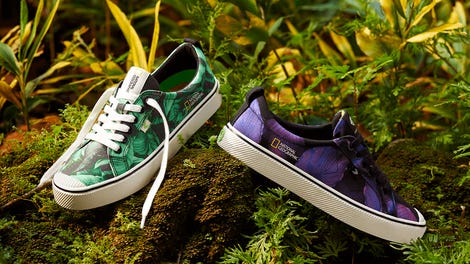 New New New
Cariuma + National Geographic
What do YOU think?
A Fox Searchlight spokesperson told the Guardian that del Toro has never seen Let Me Hear You Whisper and states that he "has always been very open about acknowledging his influences." If he'd seen it and borrowed from it, he'd say so, folks.
Del Toro has said in previous interviews that his real influence for The Shape of Water was his friend, novelist Daniel Kraus, who suggested a story about a "janitor that kidnaps an amphibian-man from a secret government facility." Maybe Kraus is a fan of Zindel's work?