Bra shopping can be difficult no matter what your size. But if you're small-breasted, there's a unique problem: everybody assumes you want padding.
Ah, I remember my first trip to Victoria's Secret. I was about 14, and I wanted something slightly less childish than the Jockey-brand training bras that saw me through junior high school. The saleslady took one look at my minuscule chest and steered me toward a rack of AAs and AAAs in a variety of dun colors, with padding so extreme and poorly placed that they looked like party hats. When I asked for something that didn't, say, weigh more than my actual breasts, she looked confused. The message was clear: "Your body is inadequate. Now strap on some styrofoam."
Luckily, manufacturers are now discovering what I wish they'd known back then — many small-breasted women don't want to create the illusion of big breasts. They just want a nice bra. Writes Catherine Saint Louis,
In the last three years, said Elisabeth Dale (formerly Squires), who wrote "Boobs: A Guide to Your Girls," there has been "a huge surge in Web sites and online retailers that specialize in smaller bra sizes in a very empowering way," like evesappleslingerie.com. "They are not about 'Here's how you stuff your bra,' " she added. "They are like, 'The way you are is perfect, and here's how I can help you.' "
Saint Louis lists a number of retailers, including Lula Lu and Lailides.com, that offer bras for women who are small-breasted and like it that way (although the demi-cup number pictured with the story, from Simone Perele, looks to be at least a B). I'd add that since my initial awful experience with Victoria's Secret, I've found solace in their Intimissimi line, which seems to cater to my boob shape better. The truth is, breasts are complicated, and bra sizing as it exists today is so simplistic that it can make anyone feel like her tits are weird. Which can lead to backlash. Saint Louis quotes from Lailides.com:
Having small breasts and wearing A-cup bras (or AA cup or B cup) is a cause to rejoice. Women who wear A-cup bras do not experience pain from running or dancing, they can sleep on their stomachs, and best of all, sagging is minimal compared to larger women.
G/O Media may get a commission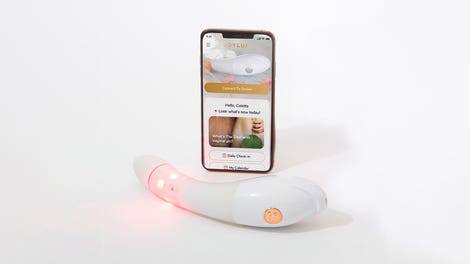 $50 Off
Joylux vFit Gold Device
Can't we rejoice in our A cups without dissing "saggy" larger women? Saying breasts shouldn't sag at all is just as bad as demanding they be a certain size, and really, do our breasts have to be "better" in order to be good? Our racks are scrutinized so heavily — and served so poorly, often, by lingerie manufacturers — that a lot of us seem to be afflicted with breast resentment. For every "small breasts aren't sexy," I've heard the counter-argument, "big breasts aren't classy" — and this from women well out of their hypercompetitive high school years. It's time for us to call the whole thing off and love the breasts we have without hating on other people's — which would be a lot easier to do if we could all find a decent bra.
For The A-Cup Crowd, Minimal Assets Are A Plus [NYT]
Image via Ittybittybra.com.