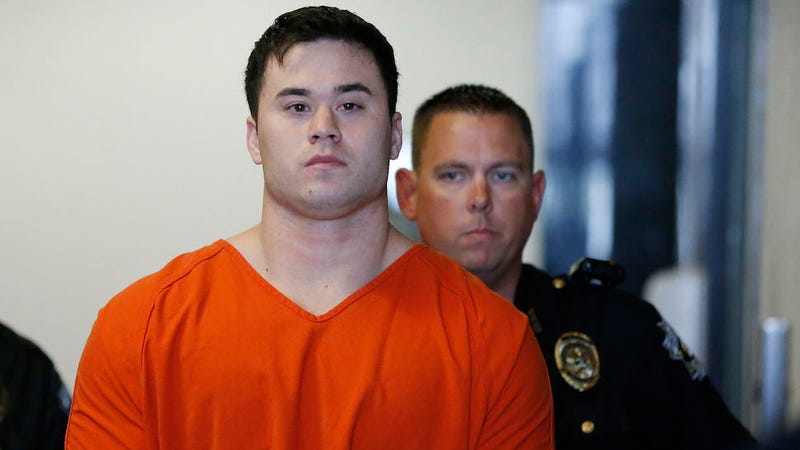 Daniel Ken Holzclaw, the Oklahoma City police officer accused of targeting and raping women while on duty is currently under house arrest, charged with 26 counts of rape, sexual battery, indecent exposure and forcible oral sodomy after several women reported him. Now three more women have come forward and the charges keep on piling up.
His new charges are all in the same vein as the previous ones from his arrest August: three counts of first-degree rape, one count forcible oral sodomy, one count sexual battery and one count second-degree rape. While it was previously noted that Holtzclaw targeted older poor black women with criminal records (his oldest accuser is 58), one of the new accusers is only 17 years old.
According to the Oklahoman, the affidavit states the 17-year-old was walking with friends on June 17 when Holtzclaw approached her, telling her there was a warrant for her arrest. After letting her go, he again approached her when she was alone and took her to her house, where he forced her to perform oral sex and have intercourse with him. Another victim was stopped in a similar manner—Holtzclaw stopped her to check for warrants on May 22 and threatened her with jail time if she didn't perform oral sex and have intercourse with him. The third victim was pulled over on April 25—Holtzclaw told her she was going to detox, raped her and let her go. Oklahoma's News 9 reports:
According to statements by one of the alleged victims, Holtzclaw pressured her by saying, "You are going to give me some sex…or you're a** is going to jail."

Another woman alleged Holtzclaw raped her after saying, "This is what you are going to have to do. I don't want to take you to jail."
With 13 accusers total so far, Holtzclaw now faces 32 charges. He remains on paid leave while under house arrest on $609,000 bail and still maintains his innocence, and his family (who runs the "Justice for Daniel Holtzclaw" Facebook page) believes there's some "ulterior motive" behind the accusations. His first hearing is set for November 18.
Image via AP.