Six months ago, the Huffington Post's Highline published a disturbing piece about backstory behind The Runaways, the manufactured tough-girl group that rocketed Joan Jett, above, to fame. The band's former bassist, Jackie Fuchs, says producer Kim Fowley raped her in front of the band; now, she says, Jett and her other bandmates still haven't really responded to her or her story.
Jason Cherkis' July story, "The Lost Girls," outlined Fowley's pattern of grooming teenage girls, his violent behavior towards them, and what Fuchs says was a public rape at a party when she was just 16, immobilized on Quaaludes. (Evelyn McDonnell, the author of Queens of Noise, a book about The Runaways, wrote for Jezebel at the time about both why she didn't out Fuchs as a victim, at a time when Fuchs was denying a version of the assault relayed to McDonnell.)
In a followup piece, Fuchs writes that watching the story go viral was utterly surreal for her, and in some ways disquieting:
The attention filled me with a mixture of nausea, joy and vindication. No longer could people write off Kim's criminal behavior as merely "colorful" or "eccentric," as they had in so many obituaries. Gone was the worry that people were going to sit in judgment of me. I'd steeled myself for hate, but after 40 years of seeing myself as soiled and unworthy of good things, the outpouring of love was almost more difficult to accept.
She also obliquely references the ways that former bandmates Joan Jett and Cherie Currie responded to her story. Both issued statements on Facebook; Jett wrote that she wouldn't have stood by and watched someone "being violated," adding, "Obviously Jackie's story is extremely upsetting and although we haven't spoken in decades, I wish her peace and healing." Currie was more succint: "All I can say is if Joan, Sandy and I saw an unconscious girl being brutally raped in front of us, we would have hit him over the head with a chair."
In her piece, Fuchs admits the non-response from the two makes her angry, but says she doesn't entirely hold it against them:
Then there are my bandmates' responses to the piece. I don't particularly want to address them, but they, too, are a part of my story now. Sometimes I find myself overcome with anger at the girls who used to call me "sister"—not for what they didn't do 40 years ago, but for what they aren't doing now. Maybe someday one of them will say, "I'm sorry for what you went through." But I'm not holding my breath. The damage Kim inflicted on all of us is too severe.
G/O Media may get a commission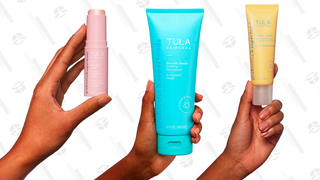 ---
Contact the author at anna.merlan@jezebel.com.
Public PGP key
PGP fingerprint: 67B5 5767 9D6F 652E 8EFD 76F5 3CF0 DAF2 79E5 1FB6
Joan Jett in 2013. Photo via AP Images