I am a graduate student in sociology, and I have a lot of reading to do, all of the time. Since I started my PhD last year, I haven't touched a book of my own choosing; I can barely keep up with what my university pays me to read. So it's saying something that, when I heard about Jancee Dunn's new book How Not to Hate Your Husband After Kids, I put down Donna Haraway and gave Dunn my undivided attention from start to finish.

Not that it took me very long to devour How Not to Hate Your Husband—Dunn's writing is effortless and chatty, even when she's going into granular detail about, say, precisely what household clutter her sister threw out during an epic purging experiment, or the exact circumstances under which her husband forgot to pick their daughter up at her after-school program. If you think other people's domestic minutiae is boring, Jancee Dunn will challenge your worldview, and she will probably win.
How Not to Hate Your Husband came about because Dunn and her husband Tom had fallen into a deep rut of arguments and resentment about their household distribution of labour. Tom, despite good intentions and a warm personality, left almost all of the household management and childcare to Dunn, and her resentment became explosive. (Sound familiar?) Their six-year-old daughter, Sylvie, was often witness to their conflicts, and Dunn began to worry about the negative impact that this repetitive dynamic could have on her daughter. "What made me especially sad about our endless bickering," she writes, "is that it drags down what is by all accounts a pretty wonderful life." Indeed, she and Tom live in Brooklyn and both have interesting freelance media jobs, and both relish their roles as parents. So over several months she decided to solicit the advice of a small army of experts—including a renowned zero-bullshit couple's therapist and a former international hostage negotiator for the FBI—to teach herself and Tom practical techniques to improve the way they divvy up the labor of their life together.
The book follows Dunn from expert to expert, and after meeting with each one she reports back to us on how she and Tom fared when applying their new skills once they got home. They go over effective communication strategies, active listening tactics, approaches to scheduling weekend activities, ways of improving their sex life, tricks to teach their daughter to help out around the house, decluttering methods—it occurred to me about halfway through the book that there are so many things to fight about in a domestic partnership that it's amazing we're even still trying to make these things work. But Dunn maintains a cheerful dedication to her mission, giving us honest appraisals of her and Tom's performances as they struggle to break out of their fighting routine.
One of the social processes that fascinates me most as a sociologist-in-training are the everyday negotiations and adjustments we develop in order to "make do"—to manage, to get by. Making do in our everyday lives requires that we construct narrative frameworks—that we tell ourselves stories in order to live, as Joan Didion famously said. Through these stories, we are able to make sense of, say, the problem of living with a man who is simultaneously a wonderful partner and lazy piece of shit. When we tell ourselves stories about our domestic lives, we desperately need to maintain an optimism that things are improving — the stakes can be very high. In the service of maintaining an acceptable narrative, we come up with elaborate justifications for our bad behavior, and the bad behavior of our partners.
G/O Media may get a commission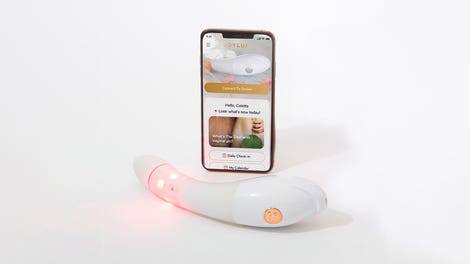 $50 Off
Joylux vFit Gold Device
This is technically a book about making the best of a very difficult and often seemingly intractable situation. It is a book about this process of negotiating and making do, about trying to muster a fair assessment of our flawed and stupid narratives, and improve them. That messy soft underbelly of negotiation and adjustment is where the bulk of the real-life information happens, and Dunn takes us there with anecdotal exchanges she has with Tom, her fun and very well-drawn extended family in Jersey, and some of her fellow earnest yet bewildered Brooklyn moms.
How Not to Hate Your Husband is a book for messy reality, but I can't shake my frustration that its twin, written for men, isn't out there somewhere: How to Keep Your Wife From Hating You After Kids. I'm disappointed that on top of doing far more housework and childcare than men, it also falls on women to patiently and strategically negotiate the terms of our liberation. I realize that this is how it has always worked; people work for change on their own behalf. Moreover, the huge and lucrative self-help publishing market has historically spoken to women more than men, and this is a book that comes from that tradition.
The difference today is that men are now more frequently socialized to pay lip-service to household equality. Our culture rewards them for sharing housework and childcare. Yet still we have to ask nicely even when we've already asked twice, we have to be strategic in the way we frame our requests so as not to spook them, we have to modulate our tones so as not to seem angry even when we are angry. This is absolutely how reality works in most heterosexual domestic arrangements, and it's getting fucking old.
Dunn's approach is sane and proactive, and her primary concern in writing the book was for her daughter's well-being, so she's justified taking a levelheaded approach rather than the "burn it down" method that I imply above. If the goal is a healthy and peaceful family life, Dunn's perspective is functional and realistic, unlike the one I keep peering down longingly, but it pains me a little bit to admit that. Over email, I asked her how she and Tom are doing now that some time has passed since they received all this advice. "Oh god, yes, it is a challenge to keep these practices up," she wrote:
"I am constantly vigilant on two fronts: one is that I'm paying close attention to the way my seven year old daughter perceives the dynamic in our relationship, which will likely determine the sort of person she ends up with herself. The other is that I'm kind of self-monitoring to make sure that I feel like things are fairly equitable in the relationship. Before, my resentment was really eating away at me, and our relationship, and I don't want to go back there… It's ongoing. It will never end. I suppose it's a kind of management, but it's relationship management. Which again is not entirely a bad thing."
As a magazine writer—Dunn contributes to Vogue and InStyle—she's a pro at summarizing academic studies that indicate that the most common relationship conflict is over x, the impact of regular sex-having is y, and the reason it's hard for couples to talk about money is z. She dutifully lays out the empirical evidence behind each of her and Tom's problems so nobody mistakes this book for a story of one couple's journey to gender parity in the home—Jancee and Tom are all of us, she seems to want to emphasize. The study data is unnecessary; I think most readers in heterosexual parenting partnerships won't need any prompting to recognize some part of themselves in Jancee and Tom. Props to both of them for airing their dirty laundry for the benefit of the greater good—she does not sugarcoat it.
Dunn's book is compassionate and reasonable, and I wish I'd read it in 2014, when I had just had my second kid and was entering into a feedback loop with my husband fed by my own negativity. The waiting list to borrow my copy is already about four friends deep. This book would make a far more practical shower gift than, say, yet another organic cotton receiving blanket. Babies grow up fast and require less stuff than we usually buy them; we adults are the ones that need help growing.
Kathryn Jezer-Morton lives in Montreal with her husband and two sons. Find her on Twitter @KJezerMorton.