Last night's entry in Awards Season Race to the Oscars was the Critic's Choice Awards, where a veritable mélange of humans came together under the same roof for possibly the first time (just assuming Reese Witherspoon, Niecy Nash, and Jenny Slate do not hang out together on the regs), and we learned that Angelina Jolie and Ethan Hawke are like, hug-friends. Did not know. Also, some dresses were worn, lord have mercy upon us all.
One of the best inventions of all time in fashion was the winter white, which was not actually invented by fashion because: arctic foxes, dudes. This shit is camo! It's being put to excellent use on Marion Cotillard, whose Dior couture gown has cast her in a new film where she plays a magical French marshmallow fairy, floating down from the heavens to bless us all with her goodness and grace. Rosamund Pike, in Valentino (also couture), is playing her understudy, and/or a friendly helping hand who teaches a secondary character a lesson in manners.
The train on Keira Knightley's Del Pozo gown was so voluminous it required a panoramic lens, which is gorgeous and lovely and basically makes up for that Chanel trainwreck at the Golden Globes, in which adult man Karl Lagerfeld creepily attempted to dress her like a human doll. Angelina Jolie, whose reputation is intact after extraneously paid racist buttwipe Amy Pascal tried to smear it, is a glorious sneering angel from 1939 and/or the house of Versayce. Get em, girl.
G/O Media may get a commission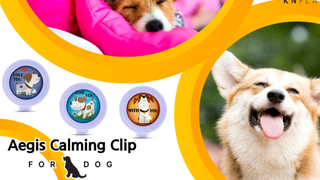 20% off
Aegis Calming Clip for Dogs
Oh, sweet elegant simplicity! Selma's Carmen Ejogo is to die for in that minimalist peach Emilia Wickstead gown, and the pockets on silk chiffon is a brilliant touch. Genesis Rodriguez, who voiced a character in best animated feature nominee Big Hero 6 (lost to The Lego Movie, which is cool since that is the best movie ever), is lovely in Reem Acra and a foot tat, although miss me with the '70s slant on the hair, which boxes in the look. Leslie Mann, also in Reem Acra, found a way to look super formal and super flirty at once—the fit is great and she looks happy to be wearing it. Not sure why she borrowed teen daughter Maude Apatow's rave purse for the occasion, but hey, have fun, man.
UGH Lorraine Toussant YOU SLAY. She is dressed like the fancy, classy auntie you spend your life aspiring to become. Julianne Moore, best actress winner, is elegant in a different way—Saint Laurent perfection, the Eiffel Tower to Toussant's White House. Also slaying, always and forever, is Quvenzhane Wallis, in Armani, who can totally MURK an accessory. Evidence:
YES, THOSE ARE TINY LOGO ARMANIS.
Amy Adams's dress fits well, and the tea-length is nice, but speaking of camo, that girl is awash in beige and about to lose herself into the ether. Birdman's Andrea Riseborough is getting shit on the internet with LESSER red carpet evaluators for her Escada suit, but y'all just don't understand what it means to be a boss who does her own thing. Yeah, there are some Hillary Clinton vibes, but I don't consider that a bad thing. She's giving me true Rita Ackermann with this, who is a total style icon, look her up. Jennifer Aniston also went full pantsuit (Gucci) and the tape situation inside that garment must be real. Not sure what is going on with the accessories but um, is she wearing a Flash Tattoo between her breasts? Welp, it is rush week, I guess.
British actor Carly Steel, what the heezy? Is that a fucking horseshoe belt buckle? Jessica Chastain has on Antonio Berardi phresh of the runway and it's super awkward, that clavicle cut-out looks like an accident in the sewing room. Emily Blunt is in Pucci, so tell me why it looks like Charlotte Russe.
Oh wait no tho—Carly Steel, when paired with Entertainment Tonight producer Sharlette Hambrick, now looks awesome and perfect and beautiful, partly because of the beautiful color blast they are raining upon our eyeballs, and partly because Hambrick is wearing the platonic ideal of the caftan I want to be buried in. Hopefully they never left each others' side that night.
Haha Diane Kruger is wearing a colonial tea set purchased at an estate sale she cruised by just before coming to the carpet. Haha not really it's Naeem Khan, and it sucks. Over in the land of super unflattering dresses on gorgeous women, Reese Witherspoon appears to have gotten in a bet with a couple yards of taffeta and lost, while Rosario Dawson, my queen, please to explain this Vivienne Westwood and also wearing black shoes with a navy dress UGH IT KILLS ME.
Whet. Had to Google Carrie Keagan, she's a VH-1 personality. Yo. What is this dress even doing. On one hand I appreciate the sheer chutzpah of wearing a fractal rave throwback to a formal ceremony, but maybe the E hangover is fierce because how else could she not see that her tits are being eaten alive by a rogue swarm of sequins? YO. SAVE THEM BEFORE IT'S TOO LATE. The busy-ness of Jamie Chung's gown is also swarmlike; you know when you're super sick and have actual fever dreams and can see, like, jagged and scary-seeming zig-zags on the back of your eyelids? That's what this dress is. And it's unclear if Jenny Slate is trying out for Real Housewives of Suburban Long Island, but she's doing an excellent job of method acting.
Oh weird, some boys were at this event too? Wait—in Hollywood? Word? Huh.
Generally all scarves-and-tuxes combos are perfection, because it gives one the illusion of being a Vegas boxing magnate and/or close personal friend to both Frank Sinatra and Sean "Puffy" Combs, but poor Cuba Gooding Jr. kinda looks like he nabbed this one off a pashmina dealer in the East Village. It's just the color, I think. Next up is Ellar Coltrane, who I refer to in my mind as "Boyhood bae" even though I don't think anyone who is not a Chicago teenager should use the term "bae" really, but I am an even bigger fan of alliteration. Bigger fan than even that, though, of his weirdo '90s velour suit and... Onitsuka Tigers? Fuck Boyhood, I think we have a style icon on our hands. Ethan Hawke, friend of Angelina Jolie apparently, is crisp in Prada, but increasingly looks like a creepy uncle. We should have suspected.
Ladies, let me introduce you to tonight's entertainment, Jared Leto, professional wedding singer and two-time National Magician's Conference employee! Birdman writer Armando Bó and designer Luciana Martí are wearing suede shoes in similar hues which I find so cute, and her dress is conceptually excellent if a little messy up top. Finally, Unbroken Takamasa Ishihara aka Japanese singing sensation Miyavi is so excellently androgynous, as ever, in cropped trousers and loafers with a tattoo peeking through. Also, please allow me to indulge in some bird shit—doesn't he kiinnnnnda resemble Jenny Shimizu, Angelina's ex? RIGHT? Had to say it.
Okay, this concludes our fash break, let's get back to regularly scheduled programming until the next awards show which is probably in like, two and a half hours. Bye for now!
Images via Getty