Not only is the completely false and made-up term "anti-aging" loathsome, the ads associated with "anti-aging" products are, without fail, offensive, cruel and chock-full of misleading language. Let's take a look, shall we?
First, the term "anti-aging" is lie, because from the moment you are born until the moment you die, you are AGING. No cream will stop that. Maybe "temporarily hydrates and plumps the skin to minimize the appearance of fine lines and wrinkles" isn't as catchy, but at least it's not a misnomer. In any case, have women become so used to "anti-aging" products that they are now looking for a "new twist"?
Almost all "cosmeceutical" ads have footnotes and claims from clinical studies. (Who do you think owns the "clinic"?) This ad is for "deep-set wrinkle repair," which you need, clearly, because your wrinkles are broken. Also, check out the "clinical results":



G/O Media may get a commission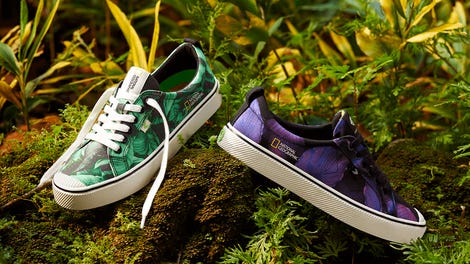 New New New
Cariuma + National Geographic
It's not just my scan — you'll see if you pick up a magazine — the pictures look almost exactly the same. This stuff is twenty bucks for 1.7 ounces.



This ad plays on the whole idea that "cosmeceuticals" are good for you because a doctor is somehow involved. This guy is "green" — see the leafy stethoscope? The pitch to use the product is marketed as "Doctor's Orders." Do women really believe you can get an EYE LIFT in a bottle? A closer look at the pitch:
See the mortar and pestle? Tricking you into thinking this is a "prescription" for what ails you? And this stuff is made from DMAE, which is dimethylaminoethanol, a compound which helps aging people's brains, but the research on skin is limited, according to Smartskincare.com. Still, you're not supposed to think about that — doctor's orders!
Lancôme has created something called Génifique, which is maybe a mashup between "genetics" and "magnifique"? The stuff is a "youth activating concentrate." It activates youth? Really? Like, yells out the window at kids to be less lazy? The copy reads, "Discover the skin you were born to have." Confusing! Don't I already have the skin I was born to have? This ad has four footnotes:



…None of which contribute to the clarity of the claims.
Being white — or as pale as possible — is the "ultimate luxury." That's the message in this Shiseido ad, where the model is so light she is fading into nothingness. The copy claims "Even bare, spots and freckles seem to fade from view." It's a skin lightener! And a quick internet search finds that users report "[it] makes my face itch like crazy" and "It made my face itch," and "The cleanser is ok… Everything else from this line was a waste of money" and "Didn't or doesn't do much for me... meaning, no actual 'whitening' effect and it also makes my skin a bit dry after cleansing." Good to know, since the cream alone is $54 for 1.7 ounces!
Another ad with a footnote, and this one clams that "in a very short time," you will see a "measurable reduction in the look of wrinkles." Emphasis mine; you won't actually have fewer wrinkles, but the ones you do have will look different. Also, the X in the logo again plays on the idea that this is somehow a prescription product; the name "professional" adds to the feeling that this shit is not for amateurs. Just a reminder: It's lotion. Skin cream.
You're broken! But don't worry. Rest easy. We'll repair you overnight.
From the Department Of Redundancy Department: "Ageless Intensives Deep Wrinkle Anti-Wrinkle Moisture." Say wrinkle again! They should call it "Wrinkle Cream For Wrinkles On Wrinkly Old Wrinkled Up Wrinkle Women. Like You."


The next ad may be my favorite, and the worst. It comes from Elizabeth Arden's "DermaTechnology Division" and has two footnotes. The copy points out different parts of a body, reducing one person to parts:
"Décolletage: Maximum exposure means dreaded age spots, fine lines and crepiness. Freckles are definitely not cute anymore."
And:
"Stomach: "Weight gain and loss. Childbirth. Need we say more?"
And:
"The Bottom Line: Loss of firmness and tone. Stretch marks and sagging. It's time to take a firm position."
The crazy thing is they're pointing all of this out on a mannequin. This woman is not even real:



And yet, even she needs a "total transforming anti-aging moisturizer." Sigh.


Earlier: What If Women Weren't Afraid To Grow Old?