Donald Trump—a rusted refrigerator left out in the sun until its contents rot and swell into one noxious, congealed mass—has responded to the FBI's latest report that, nope, there is nothing criminal in that batch of Hillary Clinton's emails. In the wake of this news, he appeals to voters, asking them "to deliver justice at the ballot box."
As CNN notes, Trump has not explicitly referred to James Comey's Sunday memo. However, while speaking at a rally in Sterling Heights, Michigan, the misogynist bigot nominated by the Republican Party to serve as president of the United States emphasized Clinton's guilt, and her protection by a "rigged system."
"Hillary Clinton is guilty," Trump heaved. "She knows it, the FBI knows it, the people know it, and now it's up to the American people to deliver justice at the ballot box on November 8."
Just to be crystal clear, when Trump says "deliver justice," he means "vote for me."
G/O Media may get a commission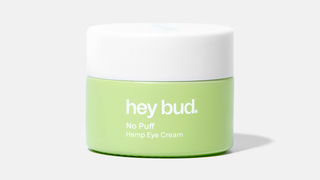 15% off
Hey Bud - No Puff Hemp Eye Cream
His remarks parrot much of what he has said many times before — that Clinton is corrupt, and that she is coddled and safeguarded by an equally corrupt system.
"Right now, she is being protected by a rigged system. It's a totally rigged system. You can't review 650,000 emails in eight days. You can't do it, folks," Trump insisted. (Maybe that's true. But although 650,000 emails were collected for investigation, only a fraction were connected to Clinton.)
Nonetheless, Trump claims that Clinton will be brought to task by the FBI for her alleged "terrible crimes."
"[The] investigations into her crimes will go on for a long time," he assured the crowd.
Michigan supporters, gathered in the Detroit suburb to attend Trump's rally, cheered and chanted their familiar chorus: "Lock her up! Lock her up!"
On Sunday, November 6, FBI Director James Comey reported anew that the Bureau finds no reason to bring criminal charges against Clinton despite her "extremely careless" treatment of classified material. With this most recent wrinkle smoothed, the Democratic nominee will follow her opponent to Michigan and hold a rally in the state tomorrow.