In the spirit of Father's Day this Sunday (remember to send your Dad that bouquet of ties he's been dropping hints about!), we're celebrating the men who raised us by showcasing them at their most Dad-tacular. That's right. Our dads at Peak Dad. It's on.
To get you started, Jezebel staffers have put forth pictures of their Dads at their Most Dad.
Peak Mr. Ryan:
Here's my bleeding heart liberal father with a gun and some waterfowl we undoubtedly ate that winter during some indeterminate year around the turn of the 90's. He encouraged me to take hunter's safety classes so I could join him on this and all of the other seasonal subsistence hunts, but, to his mild disappointment, I wasn't interested. We bonded over baseball and politics instead.
Madeleine Davies
My parents met, fell in love and consequently divorced within the confines of the 1980s midwest hardcore scene, which probably says more about me than I'd care to admit. Now in his 50s, my wonderful father continues to shred.
G/O Media may get a commission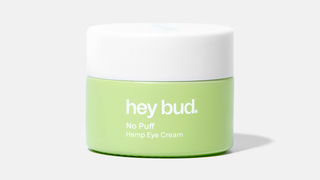 15% off
Hey Bud - No Puff Hemp Eye Cream
I am incredibly lucky to have two great dads in my life: My bio dad and also my step father Kevin, who is one of the most funny, kind and supportive people I've ever met. This picture was taken after he helped me pull out a loose tooth.
Dodai Stewart
Dr. William Wallace Stewart was a car and motorcycle enthusiast who decorated his helmet with his zodiac sign symbol. He made a "Taurus" shape out of black tape.
Tracy Moore
I didn't know my dad growing up — not even his name. Recently I've pieced together a little about his crazy, peripatetic life of crimes and misdemeanors, and was floored to finally get a picture of him to fill in the shadows in my memory. This is him just out of prison in the late 1960s, looking weirdly cool in a used-car-salesman sort of way. He did time for stealing a Corvair, the car prominently featured in Ralph Nader's polemical about auto safety, Unsafe at Any Speed, which I can only think of as a perfect description for my father.
Hillary Crosley
Here, my dad tames a wild bear with the help of his wily, pig-tailed daughter, me, and my trusty cabbage patch doll. I'm pretty sure late '70s tranquilizers were involved in this escapade but don't tell the fuzz.
Lindy West
My dad was a jazz musician and an ad copywriter and the most universally beloved person I've ever met. This is him partying in the mid-'60s. He never stopped being this fun.
Phoenix Tso
This is obviously not my dad, but apparently when he first came to this country, my dad was obsessed with Cadillac convertibles. He bought one used and learned how to drive stick shift in the parking lot then drove it home. He also used to buy Ray Bans for my mom and drive into SoHo on weekends to shop for Italian cashmere. This was mostly before I was born, but he's always had good taste.
Kelly Faircloth
Fun fact: My dad was a motorcycle-riding hell-raiser as a teen. I, on the other hand, was a Dragonlance reading dork with zero swag, because genetics are cruel. But someone with an innate "damn 'em" attitude is, in fact, the perfect father for nerdy girl growing up in the Deep South. In conclusion, Roll Tide.
Isha Aran
Pretty sure this is from my dad's 40th birthday party—after they made him play an inflatable saxophone Bill Clinton-style sunglasses and all, but obviously before the "gypsy" exotic dancer's performance.
Jessica Coen
Here's my father in the early/mid-90s — also known as the Stepford Coen years — with his two trusty sidekicks: a salt-n-pepper beard and Dockers sport coat.
Callie Beusman
My dad, a golf enthusiast who just wants me to enjoy the sport as well, read in Dirt Bag that Jaden Smith golfs. He thus tried to convert me to his ways with this gold-star Dad Text. (Like a very good dad, he reads Dirt Bag every morning when he wakes up, even though he doesn't care at all about Jaden Smith's antics.)
Now, it's your turn to share pictures that sum up the guy you call on Father's Day at Peak Dad. It's a dadstravaganza!