Well. That whole "cheater" teaser was such a manipulative misdirection. The producers are jerks! But last night's episode was one of the most stunning, ever.
The HP challenge required the contestants to create their own textile design. Mondo's idea had a plus sign at the heart of it. He admitted, in a confessional, that the symbol stood for his HIV positive status.
In other news, Mondo clearly got his "cute" gene from his mom.
After keeping his secret from the judges and his castmates, Mondo revealed his HIV-positive status on the runway after judging, and then said, "I feel a lot better. I feel free." He is just so lovable.
On to the runway…
April's print referenced her parents getting divorced when she was 13 — and feeling pulled in two directions. I didn't love this dress, I thought it skewed a little Goth Ice Capades. Guest judge Rachel Roy said this was her favorite print. Heidi Klum didn't think it was flattering, even though it was beautiful. But April was safe.
G/O Media may get a commission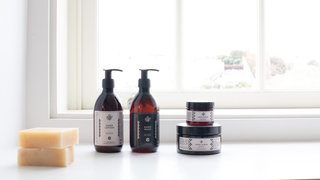 Exfoliate and Hydrate
The Handmade Soap Company
Gretchen grew up in the Southwest and made a Native American-ish squash blossom pattern. For once she made something NOT baby poop-colored, for which I was grateful. That said, this blouse is a little odd. Michael Kors called it Olivia Newton-John disco-earthy. Rachel Roy called it "almost." Gretchen was safe.
Christopher made a really lovely print inspired by San Francisco and the ocean. Nina Garcia said it was "not fashion," and Heidi Klum called it "nice, safe, boring." Michael Kors added that the last thing you want anyone to say is, "It was nice." (I would totally wear this!) Christopher was safe.
Michael C. made something MIchael Kors said looked like a man's vest and tie. Heidi Klum hated the styling, saying the yellow pumps were "too matchy-matchy." But! Mike C. was safe.
Andy was so excited to see his mom, he forgot to design something awesome. Nina Garcia said she was "so disappointed." He made a sleepy-face blouse and skated by on his past performance, I'd wager.
Who can take the sunshine? And sprinkle it with dew? Mix crazy prints together and make it look happy too? Mondo can. Mondo can! Mondo was the winner, again!
His outfit looked even better without the jacket. Nina said simply, "It's terrific." Michael Kors called it sharp, and full of joy. And Nina added, "If I had to book something to shoot, that would be it." MONDO FOREVER.
Poor Valerie. She seems like a super nice, talented person. But her dress was too similar to the napkin dress from the Party Glitter challenge. Everyone hated this ensemble and she was auf'd. She did give a very sincere, gracious, generous and eloquent exit speech, however. And her upbeat attitude will be missed.
Since we already saw images from the finale fashion show, in which I guessed (wrongly) that Valerie was in the final 3, my guesses now are April, Andy and Mondo. I see Mondo taking it all, winning the whole thing, and becoming an amazing role model for everyone on the planet.