The decades-long career of radio host/media commentator Troi Torain, better known by his on-air moniker Star, has been littered with the kind of reckless talk and ensuing controversies that seemed crafted to earn him the unofficial title of shock jock. Most notable were those that got him into professional trouble.
In 2001, he was temporarily suspended from hosting Hot 97's Star & Buc Wild in the Morning after he mocked Aaliyah's aircraft death with a sound collage of a crash and a woman's screaming voice. (He didn't actually leave the station until years later.) In 2006, while working for Power 105, Torain was arrested after threatening to "come for" the 4-year-old daughter of a rival, Hot 97's DJ Envy, on-air. "I would like to do an R. Kelly on your seed, on your little baby girl. I would like to tinkle on her," Torain said, referencing a sex tape that purportedly featured R. Kelly urinating on an underage girl. He also referred to Envy's wife of Asian descent, Gia Casey, as a "slant-eyed whore" and his daughter a "little half a lo mein eater." He was fired from Power 105, but according to the New York Post cut a deal with prosecutors to have the charges— aggravated harassment and endangering the welfare of a child—dismissed.
So it was consistent with his past behavior when in December, Torain had this to say about Nadeska Alexis, a host and producer of Complex's popular online hip hop talk show Everyday Struggle, during a YouTube livestream: "How 'bout that Nadeska on Everyday Struggle? Huh? How 'bout that little hot thing? I would love to jerk off on her leg. Just jerk off on her leg. Nadeska. That's a hot bitch. I just wanna say that on some reckless shit."
What is surprising—what out-shocks the shock jock—is that less than a month later, Torain found himself opposite Alexis as a co-host on Everyday Struggle. Torain joined the show for its second season, which began last week, apparently filling the vacancy left by former Everyday Struggle co-host, rapper Joe Budden.
G/O Media may get a commission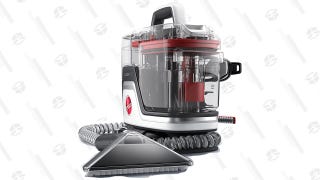 Save $10
Hoover CleanSlate Plus Carpet & Upholstery Cleaner
Alexis addressed Torain's comment about her at the top of their second episode together—she said it wasn't until after their first episode that she heard the "snippet of Star making a very inappropriate and graphic sexual comment about me" on Twitter.
Acknowledging that Torain's comment was made before Everyday Struggle asked him to join the show and that he's been "very respectful and professional with me here," Alexis confronted him nonetheless: "I just gotta ask: Why?"
"I didn't know I was going to meet you guys," began Torain's somewhat rambling excuse. "I say what I say, I do what I do. I sip at night the way [co-host Akademiks] sips in the morning. I said some things... Those comments were made without having any knowledge I would ever be here."
Alexis called the line Torain drew between appropriate behavior toward co-workers and strangers "very interesting." Torian called his own comments "sexist, foul, and... wrong."
"I'm actually very, very respectful to female co-hosts," said Torain later in the five-minute discussion. "I have never, ever called a female co-host of mine in all my radio history by the b-word. Never. Except one time, it was somebody who it was their birthday and we said, 'Happy birthday, bitch.' That's a line I don't cross. I think that that's degrading for a man to call a female by the b-word, working together."
He also gave Alexis an apology card.
"I feel like you've been professional," Alexis said, wrapping it up. "But you do use some words loosely, at least off-camera, but maybe that was too generous me even allowing that. So we just make this a very safe, respectful space moving forward, right?"
"We're censoring the show now?" asked Torain.
"No, I'm just censoring your ass, on- and off-camera, when it comes to the way you speak about women, period," Alexis said.
On Thursday's episode, the panel discussed Star's comments about Alexis again, with Star delivering an explicit apology and Alexis commenting on her decision to remain on the show.
"I want to make it clear to everyone that I'm not being held hostage here," said Alexis. "If I did feel extremely uncomfortable or deeply offended, I wouldn't sit here next to you. Unfortunately, again, doing this for such a long time, people have said a lot worse things to me and about me almost everyday, especially since I've been on the show. It doesn't make it okay, but again, I would just like to sit here and face you and check you everyday instead of just running way from it. So I feel okay. I really am not being held hostage here. I feel fine. I understand people are outraged, but I hope you guys can accept my decision because I am in the situation."
Everyday Struggle has taped multiple times with the panel intact since then, including on both days this week.
An anonymous tipster inside Complex told Jezebel that placing Torain alongside a woman he'd effectively harassed was finally acknowledged by Complex to its employees en masse on Thursday via an email from Complex VP of human resources, Scott Fintzy. The memo, a copy of which was provided to Jezebel and verified for authenticity, claimed Complex only learned of Torain's comments about Alexis last week, and acknowledged that Torain would be kept on as the host of the show. It read:
Team,

We want to reiterate our commitment to creating a safe, respectful and harassment-free workplace.

With the partnership of Hearst, we have been planning since November new Sexual Harassment training for all managers. This is a proactive effort to keep our working environment free of inappropriate and disrespectful behaviors and to prepare people for identifying and effectively dealing with a situation if it were to arise.

The training started last month in California and continued today in NY. We will be rolling out an online version for all employees to complete later in Q1/Q2.

To send this email without commenting on the situation around the Everyday Struggle show would be a mistake, and we apologize it has taken a few days to get this out to you as we were working through the process behind the scenes. This week we discovered that the new host of Everyday Struggle made inappropriate comments about one of our own (Nadeska) before he officially joined the show or was even being considered for it. Once the comments became known, management immediately met with the EDS producers and hosts to address it. We want to assure the staff that we have taken this situation very seriously and followed our procedures to address it. Nadeska was consulted throughout, including the decision to keep the new host on the show.

We will not tolerate inappropriate behavior in the workplace or while someone is engaged in services for Complex Networks. Our business objectives are important, but they will never be prioritized over the security, safety, and well-being of our employees.

This has sparked an intense dialogue within the company about our culture and values and we embrace that discussion. This email is the beginning of a communication around this and you will see more steps to allow you to engage in the discussion starting over the next week.

We want each of you to love coming to work every day, excited for the challenges of the job and industry, feeling respected and part of the Complex Networks family.
When Jezebel asked for further clarification, a Complex spokesperson sent us the following statement, which repeats a few of the points in the email printed above:
Complex does not tolerate inappropriate behavior in the workplace or while someone is engaged in services for the company. While the comments were made before Star was part of the show, once it became known we immediately addressed it internally.
And so Alexis finds herself in the position of having to sit across from a man who made a lewd sexual comment about her in public—digitally catcalling her and effectively sexually harassing her from afar—and interact with him multiple times a week and on camera. Adding insult to injury, Alexis, who did not respond to our request for comment, had to handle this herself in front of her audience, days before Complex acknowledged it to its staff. When Complex finally did so, it parroted Torain's excuse—that he had made his comment before he was officially Alexis's colleague. Complex effectively condoned Torain's conduct, though: They let him keep his job.