Robyn Rihanna Fenty, who has previously been heralded as the most surefire bet to boost your business, presumably spent her year stacking chips. In addition to filming movies (Valerian, Ocean's 8) and releasing hit singles with Future, DJ Khaled, and Kendrick Lamar, she expanded her signature line with Puma and launched Fenty Beauty, the latter the biggest beauty story of the year for its wide range of inclusive foundations (the darker shades almost immediately sold out) and dream products like the Trophy Wife highlighter and the Stunna lip paint.

Because around these parts we consider Rihanna not only the most important millennial of our time but also a beacon to guide us through this long, dark night, we ended up contributing to Rihanna's bottom line this year, too. It seemed like each day brought a new Rihanna-related thread to follow and another product we couldn't live without—and felt fine about, because we were supporting our queen, a talented and savvy black businesswoman who knows exactly what we want before we even do. By year's end, for some of us, it seemed that we had dropped a fortune into Rihanna's coffers; preened and more stylish for it, of course, but skittish about how much we had actually spent in a year of outsized retail therapy. Still, we overcame our wariness and tallied our purchases, as an indicator of Her Fentyness's strong hold over our mindsets and, for some of us (me), a living document of our fiscal irresponsibilities.
—Julianne Escobedo Shepherd
---
Megan Reynolds
G/O Media may get a commission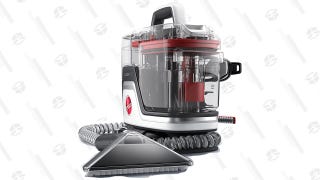 Save $10
Hoover CleanSlate Plus Carpet & Upholstery Cleaner
I've never answered the siren call of the celebrity beauty line, though I have come dangerously close to buying a Kylie Lip Kit off the street from the guy who sells them by my subway stop. But for Fenty, I was very willing to throw all the money I could at Rihanna, who certainly doesn't need it. Out of the three products, I wear the MatchStix the most—only because I have lost the Gloss Bomb Lip Luminizer somehow in the autumnal jacket/handbag changeover. Part of me suspects I left it on a table in Detroit at the Women's Convention. I have spent at least two hours, total, thinking of where this actually is, but have come up short every time. Oh well—I guess I have to buy another.
Clover Hope
I'm not even counting the items I purchased for our Fenty Beauty video testing because I expensed those (Foundation, a couple MatchStix and lip gloss). Rihanna hooked me with her beauty line before it launched—I knew I'd at least take time to test it out and, lo and behold, I loved it. After the Jezebel video, I gradually wound up buying all of the above and wearing them almost daily. I hesitated on common makeup items like the brush and the makeup sponge, but then figured WHY NOT. The line is good and reliable. My silliest Rihanna purchase were the socks with her signature stick figure on it, which I bought because I bow to Rihanna and because I like wearing thick socks at home in the winter.
Madeleine Davies
I will at least try something that vaguely promises me ending up looking ever-so-slightly like Rihanna, which is why I went for the Killawatt Freestyle Highlighter in peachy hues and the Starlit Hyper-Glitz Lipstick in Sci-Fly, a glittering garnet. To be honest, the highlighter is much more subtle than I was expecting/hoping for, making it better for day-to-day use than going full glam. That said, I really like it for that purpose. The lipstick is awesome, largely due to the packaging and the fact that it's bringing glitter lips back—seventh grade self rejoice. From what I've tried of Fenty Beauty, I think I've determined that it's not great for my skin tone, which is fine considering that cosmetic companies have almost exclusively been courting my skin tone for centuries. I'll deal.
Veronica de Souza
I'm honestly proud of myself for coming in under $100 considering I was slobbering over the Fenty Puma velvet creepers for a few weeks. I was dangerously close to dropping a couple hundred bucks on a pair on Poshmark when they were sold out everywhere but I had to say (out loud!) to myself: "Veronica, you don't even wear sneakers." But now I'm seeing them online for under $100 I'm tempted to buy them... I will try to stay strong.
Ok, anyway, back to Fenty Beauty. I bought three Fenty lip products and I love them all. I bought the Gloss Bomb when Fenty Beauty launched in September. It's an amazing gloss that smells so, so good. You can layer it if you want blinding lips or just do a single coat. It's worth every penny, which is a surprising thing to say about $18 lip gloss! The Starlit lipstick was another nice surprise. It's extremely sparkly but in an approachable way, if that makes sense? I encourage you to try it on next time you go to Sephora, you'll see what I mean. My most recent Fenty Beauty purchase was a couple of weeks ago, when the Stunna Lip Paint was released. First of all, if you haven't watched this video of Rihanna applying the lipstick, PLEASE stop reading this and watch it right now. I'll wait. Ok, welcome back. Wasn't that beautiful? The lipstick really goes on that smoothly! It's so pigmented and it dries so fast. I love it so much that I'm not even mad it feathers a little if you don't use a lip liner! I can live with that.
Sixty-one dollars is just a drop in the bucket compared to the hundreds I've spent at Sephora this year. (I'm less than $100 away from VIB Rouge. Please send help!!) Three products from the same brand in such a short amount of time is rare for me, though. I'd like to personally thank Rihanna for Fenty Beauty and for this perfect red lipstick. Also, I just added the velvet creepers to my cart. Keep me in your thoughts and prayers!
Kara Brown
I feel compelled to note that while I did spend $302.29, in actuality, I was prepared to spend $494.29. Ultimately, I returned the Fenty Beauty Gloss bomb, (it was flattering but I don't really wear lip gloss), a Fenty Puma hoodie (it was a bit boxy and I plan on buying the cropped version during the after-Christmas sales) and, devastatingly, Stunna (I don't think it has enough blue in it and I prefer my liquid to matte lipsticks to dry hard). So, there's that.
If I had to do it all over again, I'd spend the same amount of money because unlike other celebrity products, I genuinely believe Rihanna gives a shit about her customers and wants us to have dope things. Of course, in an ideal world, she'd own these companies outright instead of partnering with brands, but I still feel good knowing that a black woman from Barbados is making coins. Capitalism is a scam but I'd prefer to be scammed by Rihanna.
Julianne Escobedo Shepherd
While I figured my expenditures on Rihanna's various wares would be much higher, I still consider this a slight reality check. Nearly five hundred dollars is a lot of money, and all told, I probably did tip over when you factor in shipping (I ordered the shoes from the internet).
That said, I needed all this. The matte foundation is my perfect skin tone, something I've never been able to find; the highlighter is just right, and I'm shocked by how perfectly a bright orange shade works on me as a blush. (I also discovered, today, that I am an Autumn, so this factoid squares.) Further, my most recent Rihanna purchase, these Fenty Chelsea boots in light blue with a chartreuse sole, make me look like a psychedelic fishing enthusiast or a particularly jovial moonwalker, two things I aspire to every day. I have worn them with sweatpants and a crazy hot-pink sweater, I've worn them with a patterned navy dress (NAVY, GET IT) and a cardigan, and each time they make me look more chic, more daring, and more ready to take life by the balls and twist, twist, twist. Just like Rihanna would—and that's the whole point, isn't it?