Clover Hope
I used to have a hard rule against buying clothes online. Half the fun of shopping to me is trying on outfits and seeing where the fitting room gods lead me based on my mood, lighting and magic mirrors. Virtual purchases only increased the probability of my ordering the wrong size and having to deal with the hassle of returning items. But then last year, I had some kind of epiphany and started internet shopping at a scary pace. I've since transitioned my retail therapy operations almost completely online. Hate that it took so long, but I'm happy to be here.
Maybe it's that I have a better grasp of my sizes and a better idea of which brands run big or small, or maybe this all started when I signed up for Amazon Prime. Either way, I LIKE IT.
So after one of my faithful ripped American Eagle jeans got an actual non-stylish hole in the crotch, I began actively shopping for new jeans online. If you aren't up on American Eagle jeans, I'll explain why they're great. Because they're jeggings.
All my greatest jeans come from American Eagle because the stretch gives me the tight and not oppressive fit I deserve. It's the most consistently flattering affordable option I've ever been able to find. I wear them almost every day, and I'm sure I own every shade of denim they produce. AE was having a Buy One, Get One 50% Off sale, so I ended up getting two. Wine not.
G/O Media may get a commission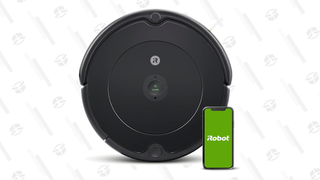 35% Off Black Friday Deal
iRobot Roomba 694 Robot Vacuum
One (above, on the left) is the Super High Rise Jegging ($59.95). The other pair that I bought (on the right) has a slightly darker wash ($29.99). As usual, I try not to be turned off by the word jegging and I toss them in my cart. Here's the secret to looking good in jeans: only wear your best ones, all the time.
While buying the jeans, I found myself scrolling through the intimates section and happened upon this Aerie sleep romper. I already have a version of it in dark gray. It's cute for hanging at the crib, though it makes peeing at home a bit cumbersome. It's $29.95, but the fabric is comfortable on my skin. I LIKE it. Good for when it's hot.

As I was browsing my Jezebel one day, a Kinja deal popped up for two Aerie bras for $15 using a special code. Oh, okay. This is already sounding like American Eagle promo, but I can't help that Aerie makes the best bralettes for smaller bosoms.
The options weren't my favorite—I'm not a huge fan of the sports-bra bralette shape—but this wasn't a deal I could pass up, mathematically speaking.
I bought a neon yellow one to use as a pop of color under tops in the summer and a navy in the same style.

I should say, I'm usually more lax with spending during warm months, maybe because it's easy to just wander into a store while walking around the city. These are also the times I most feel like I have absolutely nothing good to wear in my closet. All these purchases were made over like a month.
My other buys are summer-related and the result of shopping in a store: Urban Outfitters. This casual smock was kind of a bold buy for me because I don't love billowy dress styles on my body. They always look way better on the mannequin or in the catalog.
I have an exciting recap. When I texted a friend a photo of me wearing the dress in the fitting room to see if I should buy it or not, she took too long to respond (more than two minutes!). I was just about to leave the smock at the register when the cashier told me it was on sale. Bought. I feel good about it. I've worn the smock once already, under a camo jacket, with Vans. The fit makes me feel free.
What's also good is that the smock has pocks.
The other Urban purchase I made is what's called a Gauzy Smocked Midi Dress, in blue. It is NOT a Maxi dress. It's a Midi dress, apparently.
I like it because it's floral and slightly sheer and summery, and I don't have anything like it in my closet. Here's the dress on the model and here it is on me, in bad lighting.
I'm going to wear it a lot.
At Urban, I walked by these pony hair sandals and got them because I feel like I need more sandals in my life and these look like something Rihanna might wear or, at least, approve of wearing.
Joanna Rothkopf
I also hate buying clothes online, because I've got fairly big honkers and a generally lumpy body and when I imagine how something is going to look on me, I often try it on and find that no, it does not look like that, and in fact it fits in a way that was once completely outside the realm of my imagination. So, I don't! I go to the store, like an old-fashioned woman.
I only bought one item of clothing this past month (though I need more)—and it was last-minute for the Samantha Bee Not the White House Correspondents Dinner, to which I had to wear a black tie dress, which is something that I obviously don't own. I wasn't even going to buy anything for this—I was going to rent from Rent the Runway—but when I went to Rent the Runway I found that everything that I liked didn't fit me and everything that fit me was disgusting so here we are, now I have a black tie dress for my future nonexistent black tie events.
I got the Toluca dress from Reformation in black, and I like it because it's very flowy but not in a way that screams "I am wearing a sack because I am ashamed of my bod," which is what you often get when you're shopping for women with cans. I didn't wear a bra which is the first time I have ever done it, and when I wore it my breasts were very clearly out on the town. I am a risk taker!!! It was also $278 which is expensive but in my own rationalizing not so expensive for my fanciest dress.
Anyway, invite me to something so this dress can see the light of day again.
But that's all for clothes. In the past few months I've become obsessed with finding my perfect skincare routine for morning and night and having flawless skin like a Glossier model. I did something completely stupid though, and changed everything about my routine at once, so when I got an oily forehead and two jawline pimples I had no idea if the blame lay with a product, or from working out (I work out now, did you know?), or from my bangs, or from my dirty pillowcase, which I don't think is that dirty, but you never know.
I've been using parts of the Shiseido Ibuki line (the softener and the refining moisturizer) for a little. It comes in very pretty white bottles and is supposed to be "anti-aging for people in their 20s," which, okay, I'll do it. This month I finished off the line with the eye correcting cream because isn't it time I start using an eye cream? I have never used an eye cream before so I'm not really sure what it's supposed to do, but I've been using it in the mornings for a couple weeks and nothing bad has happened yet. My eyes are still... eyes.
I'm ashamed to admit it, but I also bought some Biologique Recherche stuff—the French skincare line that beauty and fashion people love that you can only buy at specific spas because it is so coveted. I got the Lait U cleanser, which is the creamiest, gentlest cleanser I've ever used in my life, the Masque Vivant, which is highly reviewed and smells exactly like Vegemite, and—I'M SORRY—a travel-size thing of the Lotion P50, which at least one person has called "Jesus in a bottle." I will not write how much this all cost together; you can do this research on your own.
I ordered them from Rescue Spa in Philadelphia and it came in a very pretty little box. My skin currently looks great and I will buy these all again when they run out, except for maybe the Masque Vivant, because I use it so rarely.
But that's! not! all!
I also bought a Dr. Jart Clear Skin Lover Rubber Mask because Julianne used it once and it seemed fun, and a Boscia Charcoal Pore-Minimizing Hydrogel Mask. I think I saw more of a change with the Dr. Jart, and the rubber made me look like I was wearing a gimp mask, which was funny. And then, in the same shopping trip, in an attempt to get rid of my one-to-two very prominent chin pimples, I bought the Kate Somerville EradiKate acne treatment which is 10 percent sulfur and comes in a little glass bottle. A couple years ago I was in a Sephora staring at the EradiKate and a salesperson came up to me and said, "Don't buy that—buy this," and handed me a little tube of Murad Acne Spot Treatment which is only three percent sulfur and a little bit cheaper, so at the time, I did. I gotta say she was right. Do not be taken in by the hype of EradiKate when Murad can do it twice as well for like 80 percent of the price! I waste so much money!!!
This month I also bought a tiny sampler of Benefit's Gimme Brow since my Glossier Boy Brow ran out (I like Glossier's better, which is unexpected, because I don't love Glossier in general, except for how their models look) and the CoverFX Mattifying Primer with Anti-Acne Treatment (a truly insane purchase since I don't wear enough makeup to need primer and also don't really have acne).
Please do not add up how much money this was. I don't want to know.
---
This has been "Shit I Bought," comprised of shit we actually bought. No company compelled us to write about it for any reason. We bought it all, for better and often for worse, with our own money and of our own free will.