Hazel Cills
I hate shopping right now because I just don't understand where people buy clothes. I've been trying (emphasis on trying) to wean myself off of fast fashion the past year or so because it's icky and I was tired of trying deceptively cute things on only to find out how insanely poorly made they are (surprise!!!).
It's also been incredibly easy to do that as well considering everything in stores seriously sucks right now. I'll walk into Topshop or browse ASOS just to see and everything is like some weird off-the-shoulder, dramatic, pinstripe frock thing. But I did buy some shit this month!
The first thing I bought was a dress from & Other Stories, which, yes, is fast fashion. It's also the kind of store that feels sort of special in America because there are so few of them and the clothes aren't exclusively made of polyester mixes. But my understanding is that this is like the American Eagle of Sweden, just really basic over there, though I'm not sure if anyone has basic style in Sweden? I just assume everyone there is in a synth-pop band and wearing sequin sweatpants all the time. Swedes, PLEASE correct me if I'm wrong but also DON'T because I want only this image of your country in my head.
ANYWAY I bought this bright orange tank dress because I knew it would be perfect for hellish 150 degree-feeling summer days. It is super soft and makes me feel like an elegant Cheeto.

G/O Media may get a commission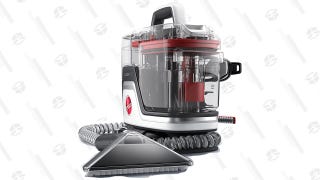 Save $10
Hoover CleanSlate Plus Carpet & Upholstery Cleaner
So in an effort to try to be a better fashion consumer I sometimes browse Garmentory which is a site that rounds up all the merchandise for the best indie boutiques in the country. There are a lot of small, trendy labels like Intentionally Blank (cool shoes) or Jesse Kamm (blame her for those weird flare pants every It Girl wears).
Most of it is too expensive for me but every once in awhile I see something on sale, like this dress with cute criss-crossing back action from an LA brand called Stil. It's another basic item that I need in my closet for when it gets aggressively hot and I don't want anything clinging to my body. It's pricey for something so simple but my logic is it's better to get one nice, sustainable dress than four Topshop dresses that will fall apart on me in like three months? Maybe??? It hasn't arrived yet though so can't review it.

Also this month I had to swing by Sephora to get re-up my foundation (the Urban Decay Naked liquid kind) and, of course, got distracted by the pretty colors and ended up buying this little Milk Blush Oil in Deep Pink which is great and way more blendable than my old powder blush. I also got a lip pencil in Brick Red from Kat Von D after a bad lipstick application experience that I DON'T want to talk about and also this DevaCurl wave product for my weird, frizzy-wavy hair.

Oh and I also bought a t-shirt on a whim from the band Wax Idols after I saw they had their latest merch online. They're a gothy rock band who write, ya know, fun songs about swimming around in blood.
Megan Reynolds
All of my clothing is gross and stained and weird—bad shirts, dresses that are floppy in the bosom and stained with barbecue sauce, etc. I need new clothes and summer feels like a good time to buy them. Also, it was briefly warm before turning cold again, and in that moment, I decided I hated everything I owned and felt compelled to replace it. Oh, and I was getting ready for a trip to Miami and as it is physically impossible to go on vacation without buying an entirely new wardrobe, I really went in.
Usually I don't buy clothes or shoes or anything that goes on my body online, but I broke that rule to buy shoes and a bathing suit. Everything else I bought in-store after touching them with my grubby little hands, as it should be.
Every year without fail, I begin a quest for clogs that usually ends in heartbreak. My feet are like tamales or little pontoon boats—wide and flat. This is why I buy shoes in person, so I can wedge my feet into said shoes and make a judgment about whether or not I'll want to saw my feet off at the ankle five steps later. I ordered these clogs from Amazon and had a minor nervous breakdown when I realized they didn't fit. So I returned them, walked to the store down the street and bought these. Then, like two days later, inspired by something I read somewhere on the internet while eating lunch, I bought these. I'm good on summer shoes now. I should not be allowed to buy shoes ever again.
(Oh, I guess I bought new Birkenstocks and a pair of flip flops to replace the ones that I lost during an otherwise uneventful beach walk at a bachelorette party last year.)
Moving right along, I also bought a bathing suit—online, without trying it on—from H&M. As I have big knockers, I usually require support in the form of boning/underwire BUT I hate the way those bathing suits look. So I took a risk, discovered that it fit and texted a semi-inappropriate picture of myself in said bathing suit to my trusted clothing advisers. They approved. Great. I also ordered this dress from Asos for a wedding in July and then these earrings to go with the dress. I hope to become a Person Who Wears Earrings. I'll keep you posted.

Hmm, it never ends: I also bought three things from Colourpop: this Blotted Lip lipstick in Candyfloss and Sucker and this eyeshadow in Sauvage. Sure, I have lipstick! Now I have more.
The stuff that I bought in person is also fine and good and purchased from Old Navy, my favorite place to buy clothing. Here's a floppy shift dress that covers my bosom. Here's a questionable "off the shoulder" dress that I will wear maybe once or twice—I bought it in a sort of parrot green that they don't have on the website anymore, so imagine that dress, but the color of this bird. Here's a shirt dress that I will try to wear every day if I can. And here's a linen jumpsuit that I will definitely wear because it's nice and I hate dealing with the consequences of having thighs that touch when I walk in the summertime. All these things were on sale. I spent like $80. I feel okay with that.

Hmm, what else? Oh, a sweatshirt at Coney Island because I was watching my sisters run a half marathon and stupidly left the house in like, a floaty tee shirt and sandals, and it started to rain. This Essie nail polish in "Oh, Behave!" which I like but will never use because I am hopelessly addicted to gel manicures but I needed it for… something?
Annnd, I'm done. I haven't Gone Shopping like this in quite some time. I feel confident that it is out of my system for now.
---
This has been "Shit I Bought," comprised of shit we actually bought. No company compelled us to write about it for any reason. We bought it all, for better and often for worse, with our own money and of our own free will.