Facebook COO Sheryl Sandberg has written a pretty extraordinary Facebook note about observing the first 30 days following her husband David's sudden death. In Jewish tradition, that 30-day period is known as sheloshim. Sandberg observes, "I have lived thirty years in these thirty days. I am thirty years sadder. I feel like I am thirty years wiser."
The post, which you can read in full here, addresses the well-intentioned questions and platitudes she's being barraged with:
A friend of mine with late-stage cancer told me that the worst thing people could say to him was "It is going to be okay." That voice in his head would scream, How do you know it is going to be okay? Do you not understand that I might die? I learned this past month what he was trying to teach me. Real empathy is sometimes not insisting that it will be okay but acknowledging that it is not. When people say to me, "You and your children will find happiness again," my heart tells me, Yes, I believe that, but I know I will never feel pure joy again. Those who have said, "You will find a new normal, but it will never be as good" comfort me more because they know and speak the truth. Even a simple "How are you?"—almost always asked with the best of intentions—is better replaced with "How are you today?" When I am asked "How are you?" I stop myself from shouting, My husband died a month ago, how do you think I am? When I hear "How are you today?" I realize the person knows that the best I can do right now is to get through each day.
It also touches on a more practical matter: she says the ambulance carrying David was delayed en route to the hospital because of cars that were slow to move out of the way. While that wouldn't have saved his life, Sandberg points out that pulling over faster could very well save someone else's:
I have learned some practical stuff that matters. Although we now know that Dave died immediately, I didn't know that in the ambulance. The trip to the hospital was unbearably slow. I still hate every car that did not move to the side, every person who cared more about arriving at their destination a few minutes earlier than making room for us to pass. I have noticed this while driving in many countries and cities. Let's all move out of the way. Someone's parent or partner or child might depend on it.
G/O Media may get a commission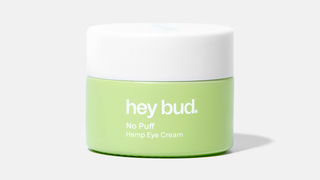 15% off
Hey Bud - No Puff Hemp Eye Cream
Sandberg says she's returning to work, and that the transition back has been "a savior, a chance for me to feel useful and connected." And regardless of your feelings on Facebook or Lean In (the latter of which she mentions explicitly, noting that people have said her story has inspired them to put "lean in" practices to work in their own lives) or anything else, it's pretty much impossible not to feel your heart break for her and everyone who's suffered this kind of tragic, sudden loss. She concludes:
I was talking to one of these friends about a father-child activity that Dave is not here to do. We came up with a plan to fill in for Dave. I cried to him, "But I want Dave. I want option A." He put his arm around me and said, "Option A is not available. So let's just kick the shit out of option B."

Dave, to honor your memory and raise your children as they deserve to be raised, I promise to do all I can to kick the shit out of option B. And even though sheloshim has ended, I still mourn for option A. I will always mourn for option A. As Bono sang, "There is no end to grief . . . and there is no end to love." I love you, Dave.
Let's not pretend: Option B fucking sucks sometimes. It sucks hard. Best of luck to Sandberg and everyone else going through it as best they possibly can.
---
Contact the author at anna.merlan@jezebel.com.
Public PGP key
PGP fingerprint: 67B5 5767 9D6F 652E 8EFD 76F5 3CF0 DAF2 79E5 1FB6
Image via AP.